Description
RIC Centre is hosting a "How to Build a Product" seminar on "Developing and Commercializing an Advanced Manufacturing Product" as part of our Expert Speaker Series.
UCIC was a pioneer in bringing an ambient voice-first product to market. When UCIC launched the Ubi, a WiFi-connected, voice interactive device, on Kickstarter in 2012, the technology to create such a product was still early and there were a lot of technical hurdles to overcome to bring the product to market. This talk will review validating an idea, finding manufacturing partners, certification issues, handling lead times, and managing funding when bringing a new hardware product to market.
Date: Monday, October 2nd, 2017
Time: 12:00PM - 1:30PM
Venue: Xerox Research Centre of Canada (Pake Auditorium)
Address: 2660 Speakman Drive, Mississauga, ON L5K 2L1
Moderator: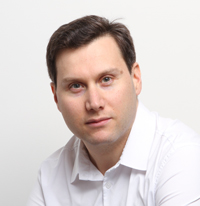 Leor Grebler is co-founder and CEO of Unified Computer Intelligence Corporation (UCIC), a company dedicated to bringing voice interaction to hardware. It's initial product - Ubi – The Ubiquitous Computer – was a voice activated computing device that offered instant access to information and control of home automation devices and was the first product to offer natural environment-based voice interaction. Leor steers UCIC towards its goal of making interaction with technology more human and natural.
If you have any questions, please contact Robert Iaboni (rob.iaboni@riccentre.com)