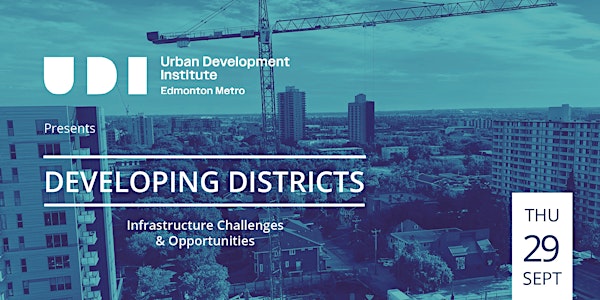 Developing Districts: Infrastructure Challenges & Opportunities
Infrastructure Challenges and Opportunities
When and where
Location
Derrick Golf & Winter Club 3500 119 St NW Edmonton, AB T6J 5P5 Canada
About this event
What infrastructure challenges and opportunities are facing the industry?
From gas to hydrogen to pipes and electric innovation – what investments are needed now and into the future? What actions are needed to better plan and build our neighbourhoods? How can we look at our infrastructure in an integrated way, and create public/private partnerships?
Hear from Dave Hunka (FortisAlberta), Greg Caldwell (ATCO), and Susan Ancel (EPCOR) as they share their thoughts and insights of where we are, and where we are headed. Moderated by Shane Gerein (Qualico Communities).
Where: Derrick Golf and Winter Club
When: September 29 from 12 - 1:30 p.m.
Doors open 11:30 a.m.
Join the conversation #UDInsights

Dave Hunka, FortisAlberta, Manager, Municipalities
Dave Hunka has been with FortisAlberta for 15 years. Previous to FortisAlberta, Dave spent 10 years at another utility managing different teams. He currently holds the role of Manager, Municipalities where his team is accountable for developing, maximizing and maintaining long term relationships with potential and existing customers throughout the 240 communities we serve in Alberta.
Greg Caldwell, ATCO, Director, Utility Hydrogen Strategy
Gregory Caldwell is a registered professional engineer, educated at the University of Alberta, specializing in Petroleum Engineering. He also holds a CPA designation.
Mr. Caldwell's professional experience consists of engineering, business strategy and regulatory policy in the Energy Industry. His most recent experience has been focused in the areas of Business Strategy, Utility Regulation, Energy Policy, and applied Innovation delivering low carbon energy solutions.
Currently participating on national and international committees with the Canadian Gas Association and in partnership with multiple levels of government, Mr. Caldwell is focused on the funding and testing of emerging technologies aimed at combating carbon emissions, promoting greater energy security, and developing alternative pathways for Canadians to provide for their energy needs. In addition, Mr. Caldwell serves as the Canadian Chair of the International Gas Union's (IGU) Research and Development Committee, as well as on the Energy Transition Advisory Committee, which advises the City of Edmonton on methods to implement their community energy strategy. Greg's current focus is leading the development of a Utility Hydrogen strategy for ATCO which encompasses the technical, policy, regulatory and economic aspects of the initiative.
Susan Ancel, EPCOR, Director of One Water Planning
Susan Ancel is the Director of One Water Planning for EPCOR Water Services in Edmonton, Alberta, responsible for the development of the strategic plans for the water, sanitary and storm water systems in Edmonton. In her prior role, she was Director of Stormwater Strategies, where she was responsible for developing an Integrated Resource Plan for flood mitigation that considered capital and operational risk mitigation planning, as well as the interrelationships between utilities, insurance, disaster response agencies and the public. Prior to her Stormwater Strategies role she was the Director of Water Distribution and Transmission for EPCOR. Susan is a Mechanical engineer with over 35 years' experience with the municipal utility sector. She has also served on numerous industry committees including the Board of Directors for GITA, Finance Research Advisory Committee for the Water Research Foundation. She currently serves on the Board of Directors for Canadian Water Network. In 2021, Susan was recognized with a Clean 50 award for her work in the development of the Stormwater Integrated Resources Plan for the City of Edmonton.
Deadline to register is Monday, September 26, 2022.
Members and their guests only.  Service charges apply to online registration.
Please specify any dietary restrictions.
GST# 800430639RT0001
The Urban Development Institute-Edmonton Metro is a non-profit, member-driven organization representing leaders in the land development industry in all communities throughout the Edmonton Metropolitan region. Our members are development companies and the professionals involved in our industry, including planners, surveyors, landscape architects, engineers, contractors, finance managers, and others. Together with municipalities who regulate and set policy related to land use, we are important city builders. We build the communities where people live, the roads they travel, the buildings they work in, and the parks where families gather.