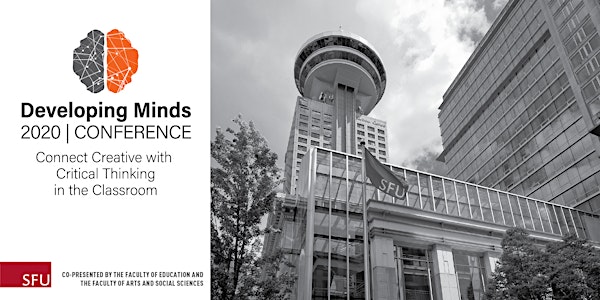 Developing Minds 20: Connect Creative with Critical Thinking
Location
SFU Harbour Centre
515 West Hastings Street
Vancouver, BC V6B
Canada
A one-day conference of practical strategies and keynote presentations for teaching critical thinking within BC's education system.
About this event
Developing Minds 2020: Connect Creative with Critical Thinking in the Classroom
Teaching critical thinking from an early age equips students with transferable skills eagerly sought by modern employers. However, for onward educational and career success, this skill should not be taught in isolation. Connect Creative with Critical Thinking in the Classroom brings teachers and experts to a one-day workshop that explores best practices in teaching critical thinking within the secondary school system. This year our focus is on creativity, exploring interconnections and synergy between creative and critical thinking for practical solutions for BC teachers. During collaborative breakout sessions, provincial education stakeholders and recognized experts will develop comprehensive lesson plans as practical tools for the classroom.
The Faculty of Education and the Faculty of Arts and Social Sciences (FASS) at Simon Fraser University co-present a one-day conference with roundtable discussion on teaching critical thinking in BC secondary schools. Join us to share global best practices and experience on K-12 pedagogy, focusing on creativity and creative thinking in the BC secondary classroom.
Open to teachers and education professionals, Developing Minds gives delegates an opportunity to share and explore key concepts in teaching critical thinking at the secondary and post-secondary levels.
You are invited to join us for our third conference; registration is free and the conference is fully catered, ending with a networking reception and cash bar where you can continue the conversation. Please join us.
Conference website: http://www.sfu.ca/conferences/criticalthinking.html
Please join our online community to access materials and join the discussion ahead of conference. Subscribe here for an invitation.
Draft Schedule
(note: subject to change) - more details here: http://www.sfu.ca/conferences/criticalthinking/schedule.html
Please note, the conference presentations will be recorded for livestreaming, with video uploaded to the conference website after the event.
Friday, February 14th, 2020
8:00am Check-in/Registration
8:30AM Welcome to SFU: Welcome and land acknowledgement
8:45AM Introduction Addresses
9:00AM Keynote Susan O'Neill "Lessons from Creative and Critical Thinkers: How Synergies and Silos Impact Students' Learning."
9:45AM Interactive presentation and workshop Nicolas Fillion "Creative and Critical Thinking in Action: Ethics Bowl in the Classroom"
11:15AM Coffee
11:30AM Breakout Sessions Moderated sessions addressing keynote and workshop to develop practical lesson plans
12:15PM Lunch
1:00PM Keynote Kieran Egan "The Role of Imagination and Cognitive Tools in Developing Creative and Critical Thinking"
1:30 PM Panel session CIRCE Practical examples of how cognitive tools shape imaginative teaching practices in ways that develop their students' critical and creative thinking skills.
2:15 PM Creativity session for delegates Moderated breakout creativity sessions for delegates - putting creative and critical thinking into action for the classroom
3:15 — 5:00 PM Closing remarks and summation, followed by catered reception Cash bar