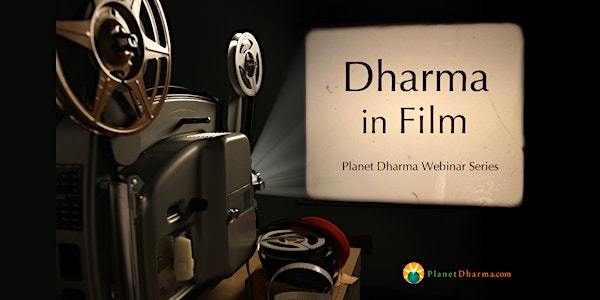 Dharma in Film: Webinar Series (Registration & Session 1)
Refund Policy
Contact the organizer to request a refund.
Description
Planet Dharma's 2018 Webinar Series
Kick off 2018, the Year of Joy, with Dharma in Film. This is first of 3 series of webinars offered by Doug Duncan and Catherine Pawasarat in 2018. Webinars will take place live on Monday evenings 7:30-9pm MST. Each series will consist of 4 webinars. Recordings will also be available if you can't attend live.
Dharma in Film: Webinar Series 1
Webinar Series Description:
Why study Dharma in Film?
Whether a comedy, drama or thriller, the medium of film brings us great joy. Astrologically speaking, film is ruled by the same planet as meditation and the transcendental unitive experience: Neptune (which also rules things like delusion, fantasy and substance abuse).
How can we use our pleasure from film to explore the experience of spiritual awakening? Join us in these webinars to learn how. We'll examine these films together from a dharma perspective.
Read more on the 2018 Webinar Series here.
For the first session we will be discussing Eternal Sunshine of the Spotless Mind, the 2004 film by Michel Gondry starring Jim Carrey and Kate Winslet. This film is from the transformative genre of "Out of the Bottle". (As in a genie bottle.)
The other movies are:
Session #2: Legally Blonde (2001) of the genre, "Fool Triumphant"
Session #3: Alien (1979) of the genre, "Monster"
Session #4: The Matrix (1999) of the genre, "Super Hero"
Please make sure to watch the movie before the webinar. Details about the films for sessions #2 - #4 will be emailed to participants.
Notes about these sessions:
Teachings can be viewed live and are also recorded and available only for the week immediately following the live broadcast. When you register you will receive a confirmation email with access details.

Advance registration required. Please note that you must register for the course via this first session or you will not have access to registration for the subsequent 3 sessions in this series. Sessions #2-#4 do not have a registration fee, and are offered solely on the basis of dana. Please keep this in mind when offering dana for session 1.

Homework for anyone attending teachings: Weekly reflections are given at the end of each class and experiences are shared on the Planet Dharma website discussion forum (known as 'Juice'). Instructions to access the forum will be in the Session 1 confirmation email once you've registered. You are also encouraged to look up any terminology unfamiliar to you in the webinars.
The links to register for sessions #2 - #4 will be included in confirmation emails when you register for each session.