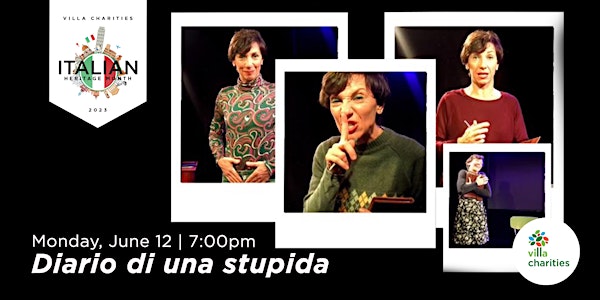 Diario di una stupida
Film screening of a powerful one-woman performance exploring feminism and personal journey. A must-see monologue that touches hearts.
Date and time
Starts on Mon, Jun 12, 2023 7:00 PM EDT
Location
Columbus Room, Columbus Centre 901 Lawrence Avenue West Toronto, ON M6B 4E7 Canada
About this event
Diario di una stupida
Film screening of an Italian theatrical monologue.
"Diario di una stupida" is an artful one-woman performance by Italian actress Cristina Galardini, written by playwright Anna Panunto.
This partly biographical monologue, set in 1967/68 Montreal is the story of a young, vivacious Italian-Canadian woman named Rosa, who finds herself suddenly married at the age of 18 to a handsome Italian immigrant (a paesano of the family). As Rosa's story unfolds, the viewers are taken on an unexpected journey as she reveals intimate details of her life and asserts a feminist voice - one that is not taken lightly for a woman of her times.
A candid story with a strong performance by Galardini, this is a must-see that will surely touch the hearts of many.
This film is screened in Italian without subtitles, and no intermission.
Monday, June 12
7:00 - 8:00pm
Price:
FREE
For more information email cultural@villacharities.com or call 416-789-7011.
About the organizer
About Villa Charities
A registered charity, Villa Charities enriches lives through experiences and services that honour Italian culture and heritage. For more than 50 years across the GTA, the organization has provided cultural and educational programs and supported culturally sensitive long-term care and independent living apartments for seniors. VCI fulfills their mandate through a broad range of activities, services and facilities, both directly and in conjunction with its affiliates and independent organizations. Affiliates include Columbus Centre and Joseph D. Carrier Art Gallery; Villa Charities Foundation; Villa Colombo Homes for the Aged Inc. in Toronto; Villa Colombo Seniors Centre (Vaughan) Inc. Di Poce Centre; and Italian Canadian Benevolent Seniors Apartments Corporation/Casa Abruzzo Benevolent Corporation with apartments for independent seniors (Caboto Terrace, Casa Del Zotto and Casa Abruzzo). Each of these organizations is an integral part of the Villa Charities family with separate legal status and its own governance Board. For more information visit villacharities.com.