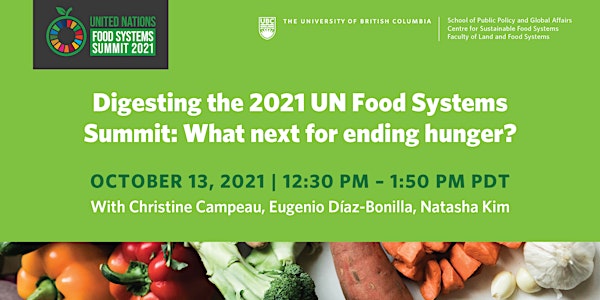 Digesting the 2021 UN Food Systems Summit: What next for ending hunger?
Virtual panel event to discuss the outcomes of the 2021 United Nations Food Systems Summit.
About this event
Join this virtual panel event to explore the outcomes of the 2021 United Nations Food Systems Summit. Panelists will discuss what they see as the major achievements or initiatives launched at the Summit that hold the greatest potential to transform food systems.
All are welcome. Please register in advance. The Zoom link will be emailed to you.
Welcome Remarks: Annabel Steidl, Student, Master of Public Policy and Global Affairs
Panelists:
• Christine Campeau, Senior Advisor - Food Systems, CARE
• Dr. Eugenio Díaz-Bonilla, Head, Program for Latin America and the Caribbean, International Food Policy Research Institute (IFPRI)
• Natasha Kim, Assistant Deputy Minister, Strategic Policy Branch, Agriculture and Agri-Food Canada
Moderator: Professor Matias E. Margulis, School of Public Policy and Global Affairs and the Faculty of Land and Food Systems, UBC
Panelist Bios:
Christine Campeau has over 12 years of experience working at the intersection of food security and nutrition. She has acquired an in-depth understanding of the complexities and trends involved in addressing the immediate and underlying causes of malnutrition. In her current role as Senior Advisor – Food Systems and Deputy Chair UNFSS AT4, Christine worked alongside Action Track Chairs on the 18-month process of collecting over 2,000 ideas to transform food systems for people, the planet and prosperity. These proposals have been refined, integrated, and championed, leading to a series of coalitions that promise impact at scale, are actionable, are scientifically grounded and will generate co-benefits across the different Action Track goals.Her work for intergovernmental agencies, such as the UN Nutrition (formerly UNSCN); for facilitation platforms such as the SUN Movement Secretariat; and with civil society organizations, including CARE and Caritas, has given her an appreciation of the diversity of stakeholders and sectors involved in food security and nutrition. It has also allowed her to cultivate relationships with all relevant stakeholders involved in tackling the nutrition challenge.Christine holds a Master of International Relations from Webster University, Geneva Switzerland, with combined focuses on international diplomacy and climate-induced migration. Born on a farm in Southern Ontario, she has spent countless hours volunteering on organic farms across Canada and working with farmers in developing countries. Her personal goal is to work with committed people from farmers' organizations, social movements, research institutions, governments, and the private sector to build resilient food systems that ensure global food and nutrition security.
Dr. Eugenio Diaz-Bonilla joined IFPRI as a visiting Senior Research Fellow in 2012 and in 2017 he was named Head of the LAC Program. He received a PhD. in Economics from Johns Hopkins University, as well as an M.A. in Economics and an M.A. in International Relations from Johns Hopkins University.Dr. Diaz-Bonilla has more than 40 years of professional experience working on development and poverty issues, including grass-roots work, academic activities, consulting work, and positions of institutional leadership in international organizations and governments. He has resided and worked for extended periods in different countries of Latin America and the Caribbean and has acted as consultant and staff member with several international organizations: United Nations Development Program (UNDP), Food and Agriculture Organization (FAO), Inter-American Institute for Cooperation in Agriculture (IICA), Organization of American States (OAS), and World Bank. He has extensive experience as advisor and consultant to governments in different developing countries on macroeconomic and trade policies, poverty alleviation, and food security programs and extensive involvement in project preparation, financing, and implementation in developing countries, mainly on agricultural and rural development operations. He has led diplomatic and negotiating activities as a senior diplomat for Argentina, focusing on agricultural trade issues in bilateral, regional, and multilateral negotiations. Dr. Diaz-Bonilla served as a member of the Board of Executive Directors of the IADB for almost nine years, as well as occupying leadership positions as Chairman and Vice Chairman of several Board Committees responsible for the governance of the Bank. In 2017 he was elected Corresponding Member of the National Academy of Agronomy and Veterinary of Argentina.
Natasha Kim is currently the Assistant Deputy Minister, Strategic Policy Branch at Agriculture and Agri-Food Canada. Prior to this she was Associate Assistant Deputy Minister, Strategic and Program Policy at Immigration at Refugees and Citizenship Canada (IRCC). Natasha also held the position of DG of Immigration branch at IRCC as well as various positions at the PCO, Public Safety Canada, Justice Canada and the Supreme Court of Canada. Natasha holds a Master of Laws from Harvard University, a Bachelor of Laws from Dalhousie University and majored in Women's Studies at the University of Alberta.
Moderator Bio: Matias Margulis is Assistant Professor in the School of Public Policy and Global Affairs and Faculty of Land and Food Systems at the University of British Columbia. His research and teaching interests are in global governance, development, human rights, international law and food policy. In addition to his academic research, Matias has extensive professional experience in the field of international policymaking and is a former Canadian representative to the World Trade Organization, Organization for Economic Cooperation and Development and UN Food and Agriculture Organization. He has also advised the UN Special Rapporteur on the Right to Food and the Scottish Parliament and consulted for international NGOs and the Brookings Institution.
Co-hosted by: School of Public Policy and Global Affairs and the UBC Centre for Sustainable Food Systems, the Faculty of Land and Food Systems, UBC