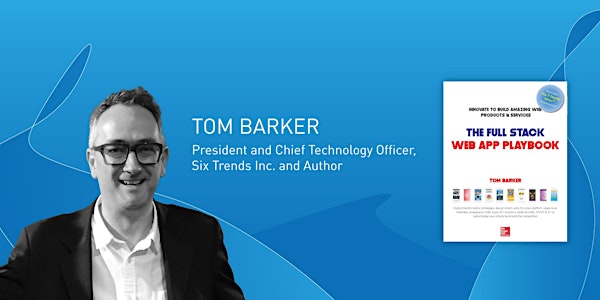 Digifest 2019: Book Launch with Tom Barker / Talk on "The Future of Digital & Education"
When and where
Location
3 Lower Jarvis George Brown College Rm 240 Toronto, ON M5A 1B6 Canada
Description

Digifest invites you and a guest to register for this special book launch taking place on Friday, April 26, 2019 at George Brown College's School of Design's new campus in the Daniels Waterfront - City of the Arts building.

"The Future of Digital & Education"

Author Tom Barker will be talking with Kevin O'Hearn, Senior Portfolio Mangaer of McGraw Hill Education, about the future of Digital & Education at a time of unprecedented change and opportunity for students, higher education and publishers. Tom will be reflecting on how best to teach the next generation of digital natives and how to ensure they are successful in their careers.
Exclusive offer for the event: Attendees will receive a 10% discount code for ordering the book from Amazon.

The Full Stack Web App Playbook Launch with Tom Barker

This book provides digital transformation strategies, design and tech skills to create responsive Websites, progressive Web Apps and full stack solutions to turbocharge your enterprise to beat the competition.
The Full Stack Web App Playbook explains how to write great code and how to create, scale or transform a business through digital solutions. Offering integrated strategies and execution for coding, design and business, this book is the most complete guide possible for existing enterprises and students alike, as well as startups.
Tom Barker is an entrepreneur in digital, design and technology. He is President and Chief Technology Officer of Six Trends Inc. a digital transformation business. He is Adjunct Professor of Digital Futures at OCAD University and an advisor to the Digital Experience Design program at George Brown College in Toronto Canada. He is also an advisor to the Emerging Media Arts program at the University of Lincoln Nebraska USA. Tom teaches executive and digital workshops around the world for businesses, communities and universities.
Book launch followed by light refreshments

Visit Full Stack Web App website
For complete program of Digifest, visit www.torontodigifest.ca
Special thanks to: