Digital 2020 Vancouver Startup Month (Nov 1 - Jan 30)
To connect, educate, and inspire founders and local talent to grow an equitable Vancouver startup ecosystem and entrepreneurial community.
Refund Policy
Contact the organizer to request a refund.
Eventbrite's fee is nonrefundable.
About this event
Diving into a virtual world!
Are you a Startup Founder or looking for tips on how to scale your business? How to Build a Thriving Company Culture in a Remote Startup? Why is there so much interest in immersive technology? What benefits will it have for startup businesses, particularly during the recovery phases of the coronavirus pandemic?
Vancouver Startup Month's Pitch Showcase provides startup entrepreneurs with a chance to try out their pitches and receive feedback from a panel of advisors and investor judges. We'll select 6 startups to feature LIVE during Vancouver Startup Month from November 1 to January 30, 2021. Submit your pitch here: https://www.digitalone.io/startuppitch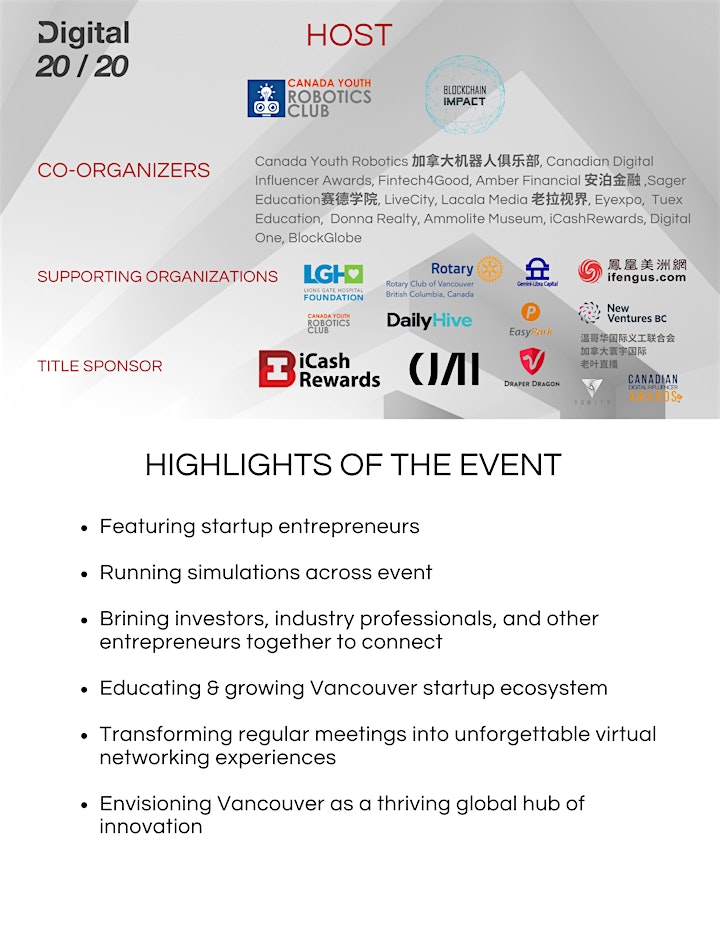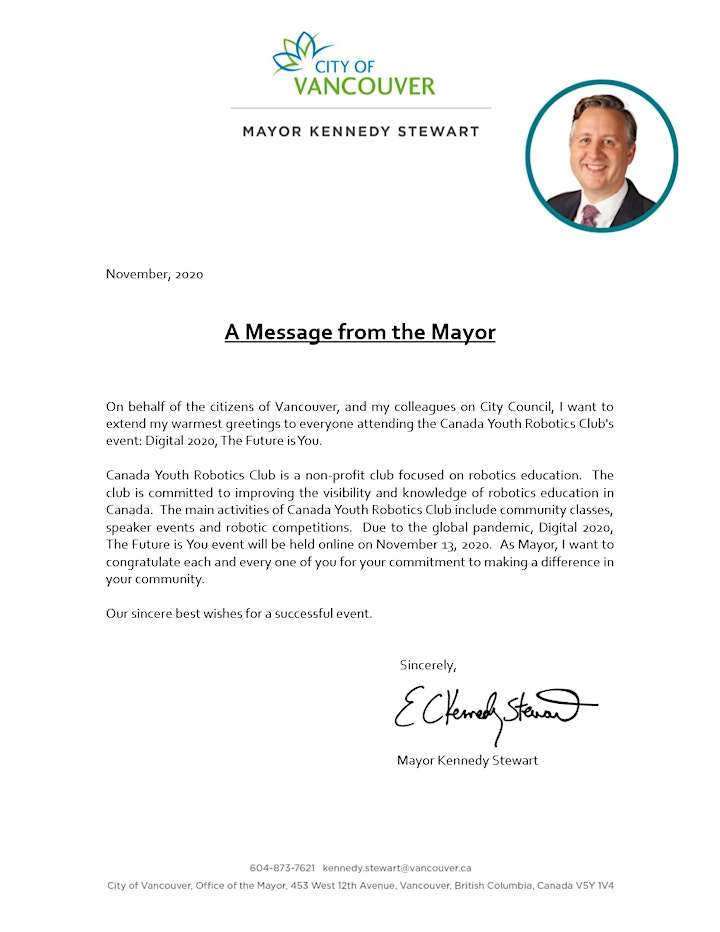 In response to COVID-19, many startup businesses are using virtual reality to run simulations to ensure staff can social distance effectively. Immersive tech is also being used for staff training and inductions as employees returning to the workplace and adapt to a new way of working and communication. Canada Youth Robotics Club and Blockchain Impact Institute are Co-hosting "Digital 2020, Vancouver Startup Month" from November 1 to January 30.
Vancouver Startup Month event will be held at a 3D Immersive Virtual Convention Center and Digital 2020 VR Center, you can access by a computer or laptop ( not a Smartphone or Tablet) and through Zoom event platform as well.
During Vancouver Startup Month, we will bring together investors, industry professionals, and other entrepreneurs to connect, educate and grow the Vancouver startup ecosystem and entrepreneurial community and share how innovative applications of immersive tech have been used across numerous industries such as education, real estate, manufacturing, retail and others and present a social engagement and communication solution in a virtual environment that transforms regular meetings into unforgettable virtual networking experiences.
We are envisioning Vancouver as a thriving and inclusive global hub of innovation, producing meaningful and high-growth companies. Great networking opportunity! We will also have workshops and pitch feedback showcases for attendees. Don't miss this opportunity, one of a kind digital event.
How to get started? Learn here: https://www.digitalone.io/vancouver-startup-month
Check out the detail of our co-organizers and supporters and the Expo Hall . Review Agenda, Exhibitor information, Sponsorship opportunity and get tickets below to attend! Speakers and startups are updating soon ! Highlighted agenda below during #VSM2020. Review 3D Virtual Expo Hall. https://youtu.be/NL_CYqwe0bI
VirBELA's new Expo Hall/ Convention Center is a modern business meeting and event facility that
provides event attendees an impressive 3D virtual event experience. The Expo Hall/Convention Center is complete with a lobby, space for socializing, and an exhibitor floor.
October 23: The Future is You! Startup Pitch Selections
October 23: Canadian Digital Influencer Awards
October 29: The Power of Coffee Chat
November 13: Digital 2020, The Future is You ! Appreciation Event
November 1- November 30 Vancouver Startup Month Preparation
& Pitch Feedback Show Series
& Tour Virtual Exhibition and Conference Hall
November 25: AI Driven Customer Journey !
January 7, 2021:Pithch Feedback Show
January 14, 2021: Modern Pipeline on AWS, Google cloud, and Azure
January 21, 2021: Investment and Exit
January 28, 2021 : Virtual Exhibition and networking
January 29, 2021: Virtual Exhibition & Student Startup Entrepreneur's Panel
Get started and download the free App. You will also learn how immersive technology helps businesses such as Stanford Graduate School of Business, the Office of Naval Research, University of California, University of Massachusetts Boston, Davenport University, Honor Foundation, eXp Realty, iCashRewards, Stanford School of Medicine, Radiant Mortgage Bank, University of Puerto Rico, Vr Church, EGADE Business School, Singularity University, The Mankind Project, Deloitte and more..... improve collaboration across their team of geographically dispersed professionals.
Catch up on the latest from the University of Massachusetts Boston is Increasing 3D Immersive Virtual Learning Capabilities!
The Convention Center can support 10,000+ users concurrently from anywhere in the world. You will have a chance to meet over 70 startups+ exhibitors from real estate, manufacturing, education, retail and others. and 50+ speakers.
You will be represented on screen as an avatar who is your virtual person or a digital representation of yourself. We recommend you download, register, and customize your avatar 30 minutes in advance of attending #VSM2020! You can log in any time and look around, practice moving your avatar and take a sneak peek at the venue starting from October 23, 2020. You can take a boat ride around the island and visit the beach, lighthouse and more before events start. The island is open 24/7 every day.
Note: A headset or earbuds are strongly recommended to reduce the possibility of echo or feedback.
About Organizer Digital 2020 VR Centre:
Digital 2020 VR Centre is an AI-powered 3D virtual immersive environment. We offer 3D sharing event and virtual office spaces for remote teams to connect and collaborate. In addition to screen share, text chat, over 200 concurrent users and many other features in video conferencing and collaboration platforms, we allow you to hold meetings, have casual conversations, and enjoy team-building activities.
Videography
Laval Virtual World
https://www.youtube.com/user/lavalvirtual
Bordeaux Geekfest
https://www.youtube.com/watch?v=Ut5Hd2zJhXI&feature=youtu.be
Follow us on Social Media:
Website: https://www.icashrewards.io/newsletter
Youtube: https://bit.ly/2zaJE39
Facebook: https://www.facebook.com/icashrewards.io
Twitter: https://twitter.com/icashloyalty
Instagram: https://www.instagram.com/iCashRewards/
Slack: https://bit.ly/37mucxq
Telegram: https://t.me/iCashRewards_EN