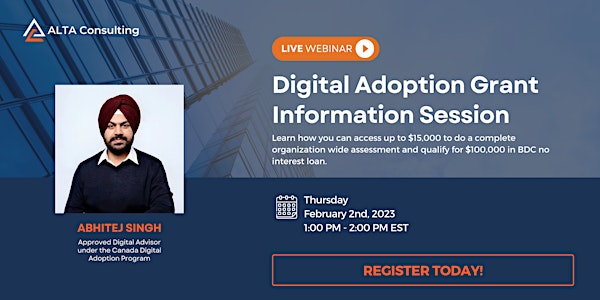 Digital Adoption Grant Information Session
Learn how you can access up to $15,000 to do a complete organization-wide assessment and qualify for $100,000 in BDC no-interest loan.
About this event
Your guide to developing a Digital Adoption Plan that identifies areas of improvement in technology, people and processes of your business to help you scale. Not only you can access funding for up to $15,000 (90% of your expenses) for this initiative. You also become eligible for a no-interest BDC loan of up to $100,000 to help you implement new technologies, train your employees and set yourself up for success.
ALTA Consulting is an Approved Digital Advisor under this program and has worked with dozens of clients to develop Digital Adoption Plans that act as a guide for organizational transformation across People, Processes and Technology functions of the business.
For growth-oriented leaders, ALTA Consulting is the growth consultant who combines leading-edge sales and strategy consulting and coaching using a proven, globally-recognized growth system to identify challenges, prescribe and recommend actionable solutions, and implement them company-wide.
Canada Digital Adoption Plan funding is a buzzing topic within the SMB ecosystem across Canada. Yet not many business owners are aware of the details around eligibility, the application process, the amount of funding and the types of expenses covered.
We're hosting this information session style webinar with a limited group of 25 attendees where we can walk you through:
What is CDAP?
Eligibility requirements, funding amount and eligible expenses
Estimate of time and administrative effort required to apply
How to find an Approved Digital Advisor
Which initiatives are covered in a Digital Adoption Plan
Opportunities after CDAP – Up to $150,000 in no-interest BDC loan and Hiring subsidy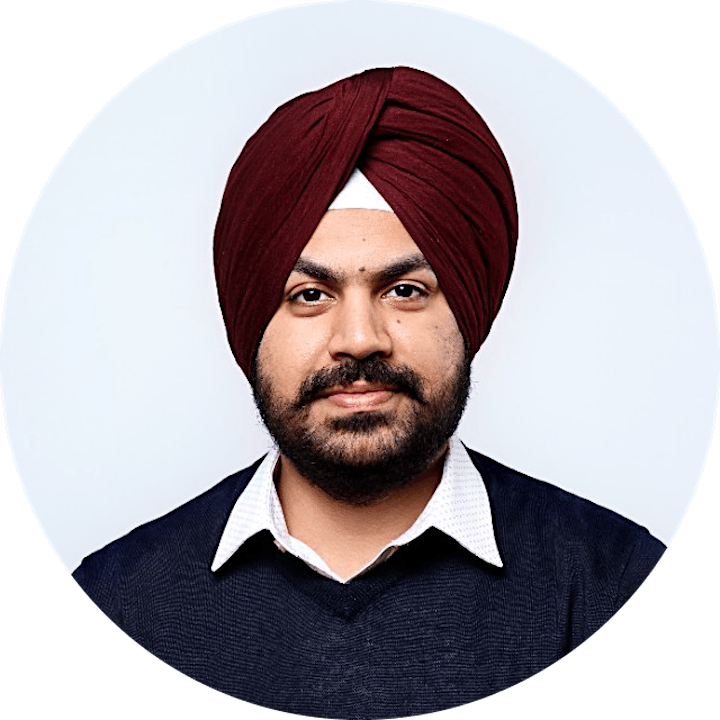 Approved Digital Advisor under the Canada Digital Adoption Program.
Abhitej has over 7 years of experience in multiple marketing and strategy roles. His journey took off as a salesperson in retail banking. He then moved to a marketing agency where he devised effective digital marketing strategies for several E-commerce start-ups and brought 20% growth in the agency's revenue in a year.
Over the past 5+ years with ALTA Consulting, he has contributed to the success of our clients by crafting marketing and growth strategies for SMBs across Canada and US.