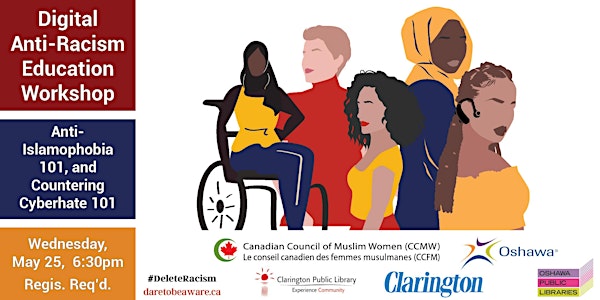 Digital Anti-Racism Education Workshop
Join us for a free, virtual & interactive Anti-Islamophobia & Countering Cyberhate101 workshop. Registration is required to attend.
About this event
Anti-Islamophobia 101 – Topics include Unpacking Islamophobia, Gendered Islamophobia & Intersectional Identities. The workshops also help participants develop an increased understanding of how Islamophobia further marginalized Black and Indigenous Muslims, queer Muslims, and Muslims living with disabilities.
Countering Cyberhate 101 – Topics include Online hate speech and extremism, including individual and collective counter speech and counter narrative. The workshops help participants explore how cyberhate and online extremism intersect to increase our vulnerabilities on digital platforms and strategies to counter these effectively.
The virtual workshops were originally part of CCMW's national Digital Anti-Racism Education 2 (D.A.R.E. 2) Project aimed at raising awareness about online hate and Islamophobia. As part of the project, CCMW hosted bilingual virtual workshops, training 3,000+ participants from across Canada on the impact of Islamophobia and how to counter cyberhate. While, the DARE 2 Project ended March 31, 2022, in its commitment to anti-racism work, CCMW continues to offer community workshops across Canada to help participants increase their knowledge and understanding of Islamophobia and Online Hate.
This program is presented in partnership with the Clarington Public Library, Municipality of Clarington, Oshawa Public Library, City of Oshawa, and Canadian Council of Muslim Women (CCMW).
About CCMW:
The Canadian Council of Muslim Women (CCMW) is a charitable organization dedicated to the empowerment, equality and equity of all Muslim women in Canada. Our mission is to affirm the identities of Canadian Muslim women and promote their lived experiences through community engagement, public stakeholder engagement and amplified awareness of the social injustices that Muslim women and girls endure in Canada, while advocating for their diverse needs and equipping local CCMW chapters with necessary resources to maximize national efforts and mobilize local communities to joining the movement.