Modules Package 4 | Master Digital Communications Strategy
About this event
12 Evening/Weekend Sessions from May 17th – June 17th
Apply By: May 14th 2021
Digital Communications are more important than ever in the new online world. Setting your team up with a proper Digital Strategy in terms of content, channels, and tracking will make sure your campaigns will perform as best as they can.
How it works
3 - 4 module courses
Feedback sessions
Virtual, online classes with industry professionals
What you get
Become an expert, add foundational knowledge & skills in one area
27-36 hours of class
Digital Badge Certification
Access to M.AD School of Idea's international network
Advertising's industry connections
*Please note Job Grant applications need to be submitted 2 weeks in advance start of the program.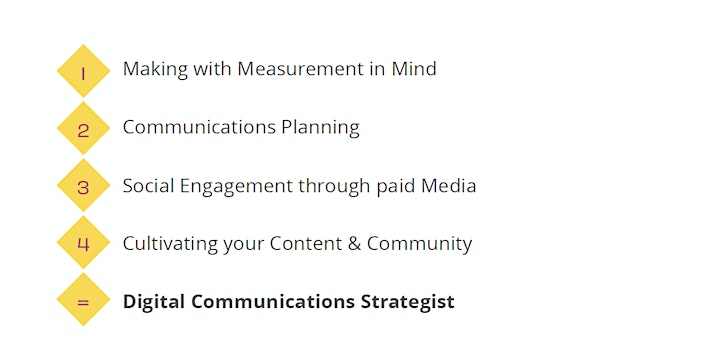 This package includes 3 skill-building modules:
Module 1: Making with Measurement in Mind
Master the basics of measurement within social media from organic to paid work streams, and how to link KPIs back to your marketing objectives.
Takeaways
Key objectives in social media buying & related KPIs
An explanation of terms (measurement,variables, test & control group, methodology, correlation, validation, optimization)
An overview of Nielsen brand effects study (platform agnostic) and creative compass (FB only)
Understand flight model and how backend optimization works for creative
Brief examples and creative outputs and report summary
Dates: May 17th, 18th, 27th
Instructor: TBA
Module 2: Communications Planning
This course will provide an in-depth understanding of planning in the digital age. Understand a target audience and their media habits to connecting during micro-moments, and understand how to present communications in the digital space and adapt/create messaging goals for each medium.
Key Takeaways
Understanding target audience (tribes) and their media usage behaviour
Opportunities to connect across the consumer journey
Digital channels (SEM, Display, Social, Web, etc.,) Consumer-first marketing: adapting to context and triggers
Communications planning framework
Dates: June 4th, 5th, TBA
Instructor: Kira Montgomery, Head of Connections Strategy @ Juliet Creative
Module 3: Social Engagement through Paid Media
Learn how to develop break through content strategies with amplification from paid media – from innovative formats to whitelisting influencers to advertorials and brand integrations. Successful campaigns consist of both organic and paid assets. A good campaign should never just use one or the other.
Key Takeaways
Introduction to paid media KPIs and paid media analysis
Ethics and best practice for paid media strategies
How to negotiate with vendors
Extrapolating complex objectives into actionable media plans
Audience Mapping in Media Overview
Dates: May 31st, June 1st, 10th
Instructor: Soumita Banerjee, Director of Performance @ Reprise Digital
Module 4: Cultivating your Content & Community
Social media has the power to transform a shared interest into a powerful community through content. The community manager is the key to curating elements that inspires connection and interaction between brand and person.
Key Takeaways
Community Management 101: brand voice vs. service rep and brand handle hygiene
Understanding of the types of community management tools & terms (CMS, chat bots, automated messaging, surprise & delight, escalation matrix)
Customer relations strategies
Identifying organic creative opportunities within the community
Developing an escalation matrix
Dates: June 7th, 8th, 17th
Instructor: Matt Stasoff, Strategist, Digital & Social @ Anomaly