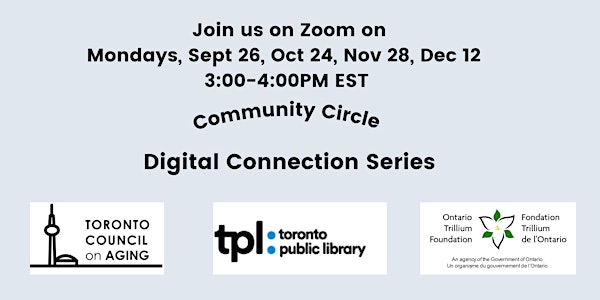 Digital Connection Series: How to Shop Online
We partner with Toronto Public Library on a Digital Connection Series: How to Shop Online
About this event
For people who want to learn how to shop online with confidence. Whether you need groceries or home appliances, almost anything can be purchased and delivered to your home. We teach you how to find goods and services online, look for customer reviews or consumer testing results and provide tips and guidelines on how to shop safely, securely and with confidence.
Upcoming Digital Connection Series, please register for events separately.
Presenter:
Claire Fyfe, Librarian, User Education (Toronto Reference Library)
Claire Fyfe is a librarian who has worked in various Toronto Public Library branches over 20 years. She currently works in the Toronto Reference Library branch, where she has been teaching adults how to use computers for 6 years. Her special interest is in teaching beginners. She also loves to connect people up with great books.
Community Circle Program:
TCA's Community Circle's program seeks to engage Toronto's diverse older adult communities and reduce social isolation during COVID-19. We intend to collaborate with local communities and host virtual webinars, in areas such as arts and culture, recreation, health and fitness and social services. We hope to create a virtual experience which provides a sense of belongingness that is safe, healthy and fun. The program is funded by way of a grant from the Resilient Communities Fund through Ontario Trillium Foundation.