Digital Connections and Divides: Shaping smart cities and healthy cities
Description
Professor Judith Green, from King's College London, and Professor Steven Hoffman, scientific director of CIHR's Institute of Population & Public Health, will explore the implications of digital divides and digital connections for urban life and social policy at a half-day symposium hosted by the O'Brien Institute for Public Health.
Information and communication technologies have reached near-ubiquity in urban areas. They are changing the way cities are governed and experienced, and therefore have major implications for health promotion and health care. Professors Green and Hoffman will reflect on the concepts of digital divides and digital connections, and will bring together two major scholarly debates with profound implications for urban policy: 'smart cities' and 'healthy cities.'

Agenda
8:30 am | Registration and breakfast
9:00 am | Welcome remarks
9:15 am | Watanabe Lecture* by Professor Green
10:00 am | Lecture response by Professor Hoffman
10:30 am | Breakout discussions
Breakout session topics (when registering, please select the session you would like to join - SELECT ONE SESSION ONLY):
Big Data and epidemiology

The digitalisation of health records

Who is the healthy city for? Digital technologies in the context of economic, social and cultural diversity

Aging and digital technologies: Connections or Divides?

Social media and professional practices: consequence for health and healthcare

11:30 am | Professors Green and Hoffman respond to breakout discussion questions
12:00 pm | Q+A
12:15 pm | Closing Remarks by Dr. William Ghali
12: 30 pm | Networking luncheon for all registrants
Our Speakers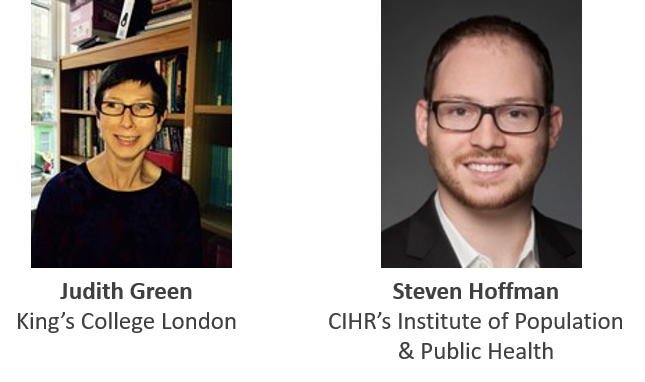 Professor Green holds the position of Chair in Sociology of Health at King's College London. Previously, she was with the Health Services Research & Policy department at the London School of Hygiene and Tropical Medicine, where she had been since 1996. She is a medical sociologist, with degrees in anthropology and medical sociology, who is renowned for her work on the sociology of transportation. She brings a breadth of knowledge and an international reputation in linking social science with public health, as evinced by a textbook in Qualitative Health Research (in its 3rd edition) and editorial leadership for a peer-reviewed journal, Critical Public Health.
Professor Hoffman is the Director of the Global Strategy Lab, a Professor of Global Health, Law, and Political Science at York University, and the Scientific Director of the Canadian Institutes of Health Research's Institute of Population & Public Health. He is an international lawyer who specializes in global governance and legal epidemiology. Since taking on the CIHR role, IPPH has updated its strategic priorities to focus on advancing healthy cities research, using artificial intelligence to address public health challenges, and bridging the gap between evidence and public health policy. Professor Hoffman holds a JD from the University of Toronto, a PhD from Harvard University, and an LLD from Sciences Po Paris.
*The Dr. Mamoru (Mo) Watanabe Lectureship was established to honour Dr. Watanabe's dedicated leadership and service as Dean of the Faculty of Medicine from 1981 to 1992. The Lectureship focuses on current issues in health care delivery, an area of great interest to Dr. Watanabe. As the Watanabe Lecturer, Dr Green will spend several days at the University of Calgary, interacting in areas of her expertise with scientist/scholars, postdoctoral fellows, graduate and undergraduate students.