Description
En Conjunto and A Shared Table have joined together to offer Digital Dine-In: a virtual community dining experience!
We believe deeply in the sacred nature of a shared table and the powerful medicine that food can be–for the body and the soul. We may not be able to go out right now, but that doesn't mean we can't dine together!


It's simple!
RSVP for a Digital Dine-In.

Prepare a meal at home.

Sign in. (Information provided @ registration)

Dine-in and talk with people from anywhere in the world!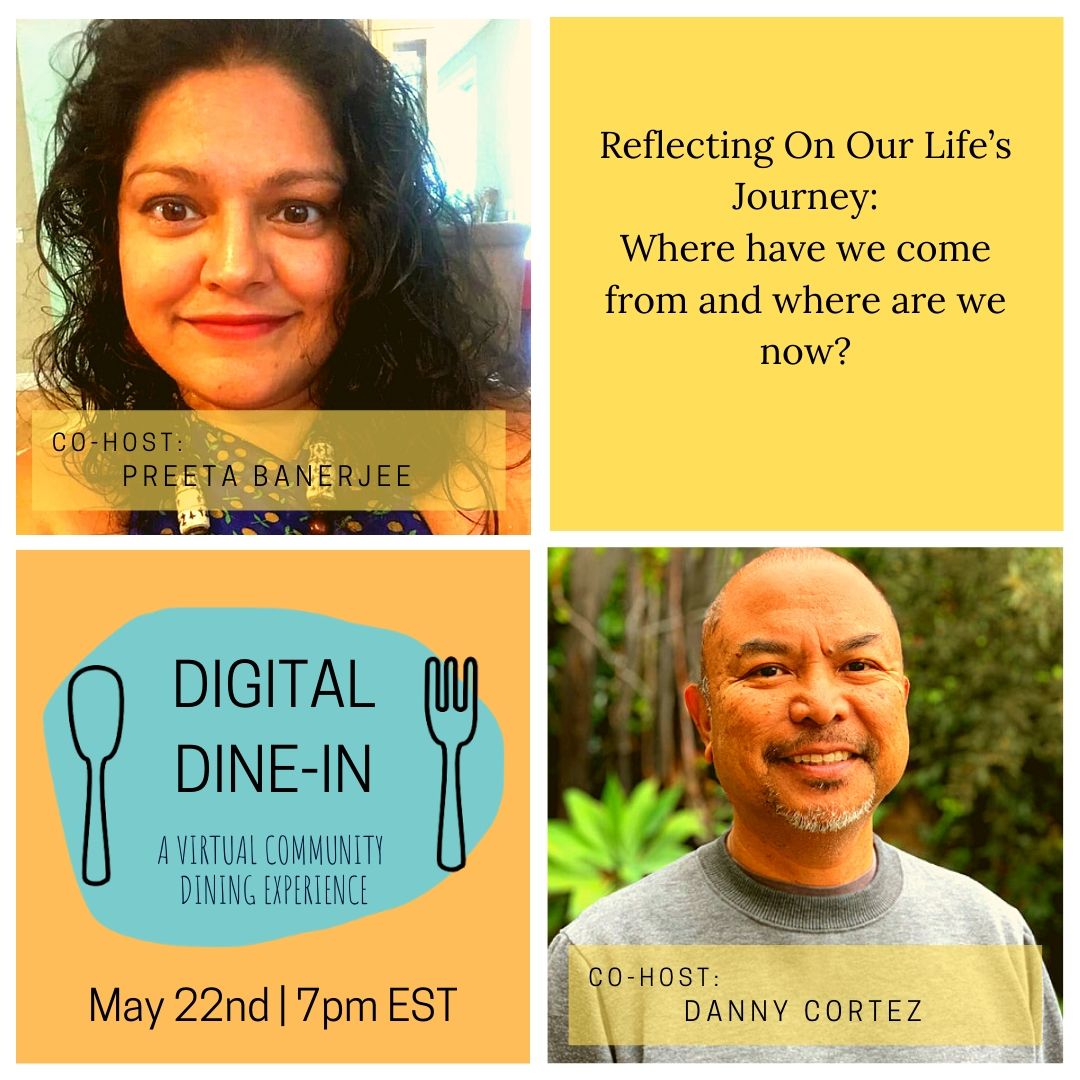 Date | Time: May 22nd | 7pm EST
Audience: Open to All
Language: English
Cost: Pay What You Are Able
Dinner Topic:
Reflecting our Life's Journey
Description:
In our life, we often behold three primary forces of Nature, those of creation - the spark of life and new beginnings; love - or the power of connection that helps us navigate our life's journeys; and destruction - the end of a particular journey, story, life. Let's join together to converse about where we have come from and where we are now - whether with poetry, scripture, song, or gentle movement - while we dine together companionably.
About the Hosts:
Preeta Banerjee (@d_pbanerjeee) is a strong voice for combining spirituality, creativity, innovation, entrepreneurship and social change.
Danny Cortez (@danny_c_cortez)
---
FAQs
How many people can I expect to meet at a Digital Dine-In?
Each DIgital Dine-In is capped at 10 guests. We keep the dinner list small so that people have a chance to engage in meaningful conversations. Our objective is to create a space that promotes the practice of togetherness and hospitality.
How do we promote brave and safer dinner conversations?
All of our dinner hosts are skilled facilitators and experienced in the art of hospitality. We support and resource our dinner hosts before and after their Digital Dine-In experience. We've also created Digital Dine-In Table Manners, which we invite everyone to review and practice during the dinners. Read a PDF copy our of our Digital Dine-In Table Manners here.
How much does a Digital Dine-In cost?
That's up to you! For individual participants, the Digital Dine-In is a pay what you are able experience. All funds will be used towards the sustainability of this project: honouring the skills and labour of the Digital Dine-In dinner hosts and admin team. If you're currently unable to financially contribute. Don't worry we've got you. Email us the information of the Digital Dine-In you'd like to attend and we will send you a promotional code to enter at registration. Note: there are only a limited number of promotional codes given out per Digital Dine-In.
This is a great idea. Can I schedule a Digital Dine-In for my community group or organization?
If you want to schedule a private Digital Dine-In for your group or organization please contact us. We will work with you to curate a meaningful team building experience, including finding a topic and dinner hosts (experienced facilitators).
What's the refund policy?
We do not have a refund policy, but you are able to transfer your ticket to someone else if something comes up and you're unable to attend. Please email us the name of the person who will be taking your place by 11am the day of the Digital Dine In.
Is my registration fee or ticket transferrable?
Yes, if you email us the name of the person who will be taking your place by 11am the day of the Digital Dine In.
Where can I find out more information?
To find out how to become a host, view our calendar of dinners and more visit us at https://www.asharedtable.ca/digitaldinein.
How can I contact the organizer with any questions?
Please email your questions to AnaYelsi Velasco-Sanchez at anayelsi@browneyedamazon.com.