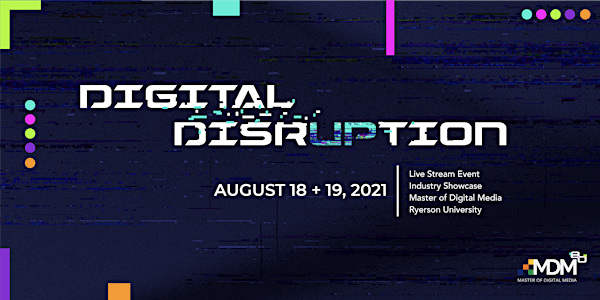 Digital Disruption Industry Showcase
You're invited to the Master of Digital Media 8.0 - Digital Disruption Showcase. Tune in and experience the immersive showcase.
About this event
About the Industry Showcase
The Digital Disruption Industry Showcase is taking place on August 18 and 19. This two-day event is surrounding the theme digital disruption. MDM 8.0 students will be presenting their major research projects (MRPs), their impact, and how these students accomplished them. The Digital Disruption Industry Showcase is live-streaming on Twitch, which can be accessed through the website mdm8.com, or through social channels under the username @ryersonmdm .
About Us
We are MDM 8.0 - the only fully digital cohort.
Throughout the 2020-2021 academic year, we have grown as digital media students and professionals in ways we never expected. MDM 8.0's research is the tip of an iceberg: from digital media entrepreneurship, to exploring how podcasts foster an immersive virtual community for Black women, to implementing gamification in financial technology, and the intersection of digital media and accessibility studies, our knowledge as a collective is vast and innovative.
Day 1 | 2PM to 6:30PM
Gamification
Physical Computing, Robotics, Machine Learning, AI
Digital Story Telling
Day 2 | 2PM to 6:30PM
Digital Communities and Inclusivity
Digital Media and Business
Augmented and Virtual Reality
Feel free to contact us at mdm8.0ryerson@gmail.com if you have questions related to this event.