Digital Dojo is a virtual question and answer session for dharma practitioners.
About this event
Digital Dojo: Spiritual Questions, Powerful Answers
Just like in a martial arts dojo, engaging with teachers and community makes us stronger, more agile, and clearer.
Are there challenges coming up in your practice, relationships or career? Are there mysterious arisings in your meditation sits that you can't decipher or simply want to ask about? Would you like to hear the experiences of the wider community?
Digital Dojo is your monthly Q&A session with Dharma Teachers Qapel and Sensei.
We look forward to seeing you on the 'mat'.
Please note that registration closes at 9 pm on Friday, Sept 17th.
It may also be possible to attend live at Clear Sky Meditation Center - please call 250-429-3929 to inquire.
Dāna / Generosity
These sessions are offered on the progressive and precious practice of dāna, or generosity. Consciously cultivating dāna practice is a key pillar of our teaching and practice. For more information on the practice of dana we encourage you to visit our Dana page.  We invite you to offer dana, as a pay by the heart model of giving for this class.
If coming with others please register each individual separately.
More about the class: Digital Dojo
Helpful Guidelines for Live Video Participants:
- Download the Zoom app if you have not already. - Arrive 10 minutes early so you can be added to the call without disrupting the actual session.- When you are not directly asking your question, make sure you are on mute and not distracting attention in any other way (eating, drinking, moving around etc.).- Have a light source directed towards your face so everyone can see you. Please avoid being backlit.
More details on how to attend, ask questions, and access the recording will be sent you in Digital Dojo Ticket once you have registered. 
May our learnings together be of benefit for all beings.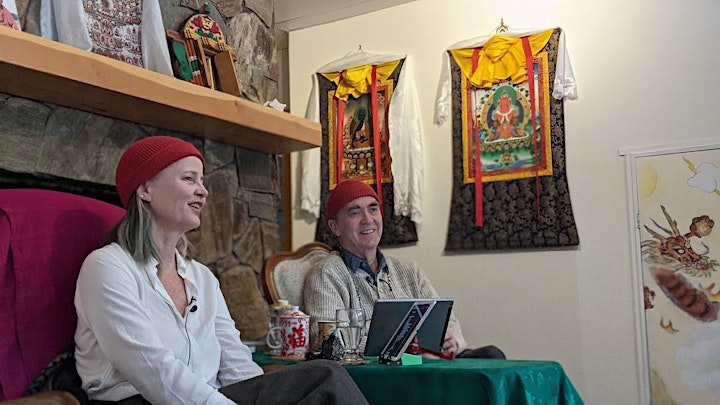 Organizer of Digital Dojo (September 19th, 2021)
Doug Duncan and Catherine Pawasarat both received lay ordination from Namgyal Rinpoche, and teach and train in the same tradition, emphasizing diverse explorations, self-awareness training and integration, with a focus on awakening in this lifetime.
Planet Dharma is universalist by design, Buddhist by background and humanitarian by nature. Doug and Catherine bring a combined experience of over 50 years of working with individuals and groups to realize transformative change in their lives. Focusing on self-actualization, social responsibility, economic sustainability and environmental integrity, we mentor beings to the greater freedom and compassion that leads to wisdom.