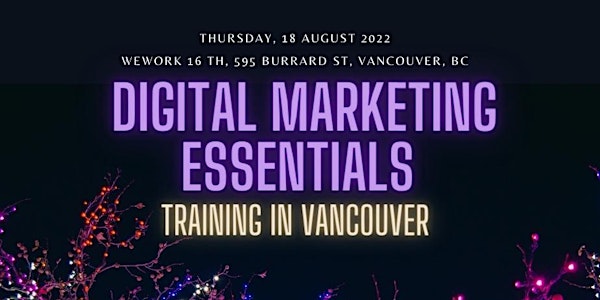 Digital Marketing Strategies for your Business
Digital Marketing Essentials Training in Vancouver
When and where
Location
555 Burrard St 3rd floor 555 Burrard Street #3rd floor Vancouver, BC V7X 1M8 Canada
About this event
Our classroom training provides you the opportunity to interact with instructors and benefit from face-to-face instruction.
About this event
If you don't know how to start to get new customers online, Media Masters will give a free talk to get your first potential customers. We will explain the fastest and cheapest way to have your website, incredible social networks, appear first on Google, excellent content and advertising that will be seen by those who really interest you (Google Ads).
Language: English
Duration: 1 hour
Course Delivery: On-Site
Course Overview:
This training, 'Digital Marketing Essentials ' covers the basics of marketing and are intended not only for people who are new to a marketing role, but just about anybody in the organisation. A basic understanding of the subject is particularly valuable to people in management, selling and customer service roles.
Course Contents:
Effective marketing is vital to ensure the survival and growth of any business. It does not matter whether the business is large or small or what products or services the business supplies, the truth is that effective marketing cannot be ignored and is essential for any successful organisation.
Course Topics:
This training on, 'Marketing Essentials' will help you understand marketing concepts and how they link to the growth strategy of the business. They will also give you a solid grounding in market analysis and how marketing influences customers. The Marketing Essentials training include:
Marketing Process
How to generate Leads
How can work google for me?
Google Ads
Facebook Ads
TikTok Ads
WebPage (HTML)
Wordpress
Course Features:
At the end of this Marketing Essentials training you will be able to:
Explain what marketing is and how it links to the growth strategy of a business
Identify the components of the marketing mix and extended marketing mix and explain how marketing affects all areas of the business
Use in a Basic way Google Ads, Facebook Ads, Google Analytics and other tools
Who can Attend?
Anybody who is interested in learning Marketing Essentials Skills
Note:
However, catering to the demands of busy professionals, our virtual training programs are as effective as face-to-face learning. Reach us at danieltrejomx@gmail.com for dates and details of Instructor Led Live Virtual Session.
If you would like to get this course customized and delivered exclusively for your group, we have an On-Site Training Option you can reach us at danieltrejomx@gmail.com for more details about on-site or corporate training.