Digital Media Workshop & Presentation - From setting, implementing and measuring objectives, to what success looks like in the Edmonton market and beyond

Thursday, 29 January 2015 from 9:00 AM to 1:00 PM (MST)
Event Details
Digital Media Workshop - Presented by Nikki Van Dusen, M.A.
9:00am-12:00pm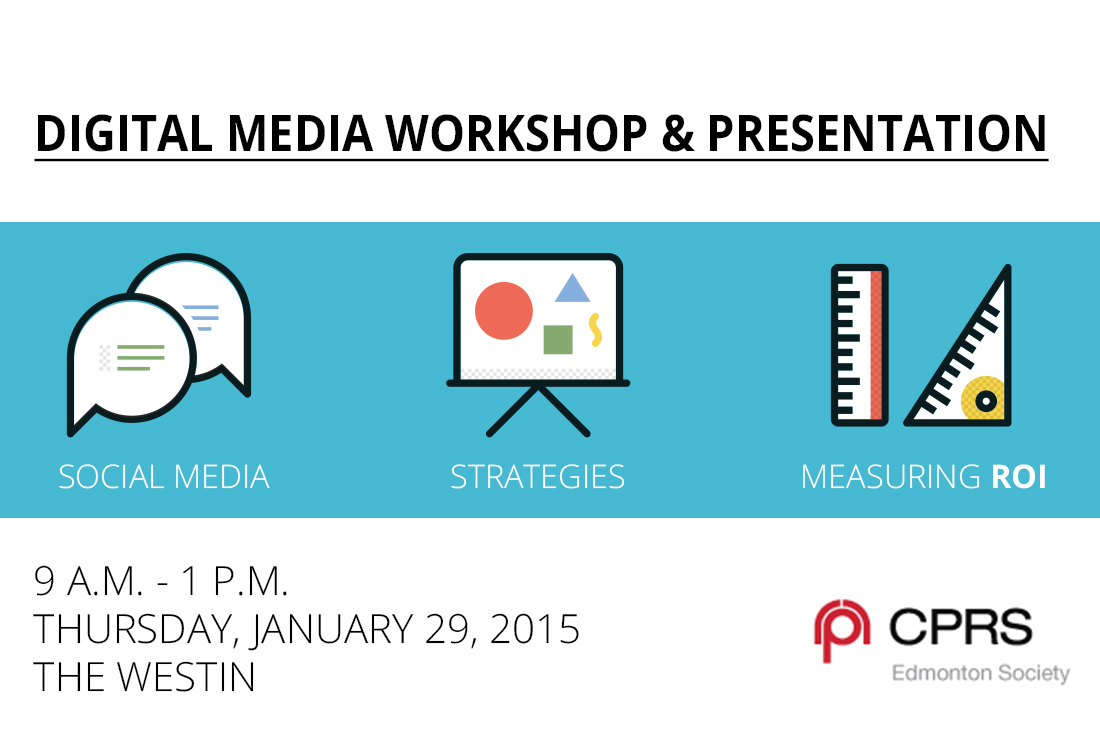 Setting and measuring SMART digital media objectives: Data and Insights and Analytics, oh my!
How do you know how you're doing online? Online campaigns rarely run alone. Online tactics, such as your website and social media, are only some of the tools in the communicator's tool box. Also, web and social media channels offer unparalleled amounts of data about their performance. This can be both beneficial and problematic.
What sort of objectives are reasonable for online tactics, and how do you measure them? This workshop will help you figure out what's reasonable to achieve, and then how to figure out if you're achieving it. You'll get a framework for goal- and objective setting, an overview of measurement tools and data, and then work on cases to practice your skills.
Nikki Van Dusen, M.A.
Nikki Van Dusen, M.A. has 15 years of experience in public relations and corporate communications. She is the President of NikComm Inc, a PR firm that specializes in holistic online PR: from websites to social marketing to issues management 2.0 strategies. She is a talented facilitator and instructor, and teaches regularly at both MacEwan University and the University of Alberta.
Nikki has a Master's Degree in Communications and Technology, and has helped many large organizations "join the conversation" strategically, including Alberta Catholic Social Services, EPCOR, The Government of Alberta, and the University of Alberta.
---
 Lunch Hour PD Presentation - Presented by Michael Donovan & Peter Bishop, ZGM
12:00pm-1:00pm
Effective Creativity - The Math Behing the Art
In today's market, where things are more cut-throat than ever, companies are getting more and more watchful on where they spend their money. Great campaigns not only have to be brilliant, but have to show proven results before and after the work is done.
Join Michael and Peter as they give us a sneak peek behind the curtain into how great agencies churn out innovative and engaging ideas time and time again. We'll uncover the math behind creativity and how you can apply this to your own brainstorms to get to great ideas and insights.
Michael Donovan
Managing and Creative Director, ZGM Edmonton
Creative and Strategy Lead
Michael has held senior positions in marketing, advertising, and communications before starting and leading his own agency in 2003. He draws on over 15 years of award-winning experience as brand consultant, marketing manager, creative director, and director of communications. In these roles, he has provided award-winning brand and marketing solutions to clients in technology, construction, retail, hospitality, aviation, and travel and tourism.

Michael is the winner of the Edmonton Chamber of Commerce 2009 Small Business Owner of the Year Award, the Gold Premier's Award of Excellence, 18 North American Airports Council International (ACI-NA) awards for excellence in marketing and communications, including back-to-back-to-back Peggy G. Hereford Awards, 11 International Davey Awards from the International Academy of the Visual Arts in New York, and EEDC's prestigious 2012 award for Bringing Recognition to Edmonton. Michael is a strategic, creative thinker who can work across disciplines and loves teaming up with clients to create exceptional work.
Peter Bishop
Partner/Creative Director, ZGM Edmonton 
VP of Digital Alberta
Having been involved in the online world for almost 20 years now, Peter's job and his passion is to keep up to date on emerging technologies and make decisions on where ZGM is pointed. As a testament to his hard work, ZGM has been constantly recognized in digital award shows and publications both locally and internationally. Peter also plays a big role in the online community from heading up networking camps and public speaking, to judging interactive awards and evaluating technical programs in Alberta. His mantra of "wake up with both arms swinging" is not only what keeps ZGM on top of their game, but keeps a watchful eye on the horizon.
---
Take advantage of half price PD lunch tickets when you register for BOTH the workshop and lunch time presentation! 
PLEASE NOTE: Registration for this event will close Tuesday, January 27th at 3pm in order to properly accommodate catering. Sorry - no exceptions!
Also, please let us know asap if you have any special dietary requirements.
Have questions about Digital Media Workshop & Presentation - From setting, implementing and measuring objectives, to what success looks like in the Edmonton market and beyond?
Contact CPRS Edmonton
When & Where

The Westin Edmonton
10135 100 St NW Edmonton
Alberta T5J 0N7
Canada

Thursday, 29 January 2015 from 9:00 AM to 1:00 PM (MST)
Add to my calendar