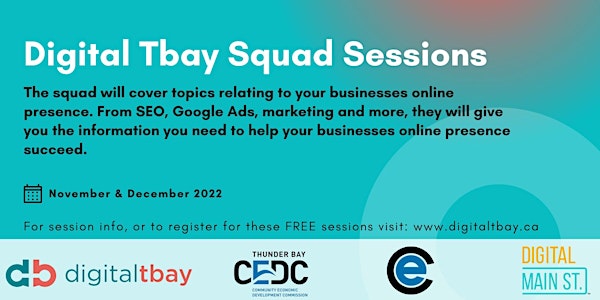 Digital Tbay Squad Workshops
Join the Digital Tbay Squad in this workshop series!
When and where
Location
Northwestern Ontario Innovation Centre 2400 Nipigon Road Thunder Bay, ON P7C 4W1 Canada
About this event
The squad will cover topics relating to your businesses online presence. From SEO, Google Ads, marketing and more, they will give you the information you need to help your businesses online presence succeed. As part of Digital Tbay, you can book free one on one meetings with the squad as well.
All of these sessions will be taking place at The Nortwestern Ontario Innovation Centre.
Monday, November 21st 12 – 1 pm by Brian
Targeting with Your Facebook Ads. Learn how Facebook ads work, and how to target your specific audience. Brian will also give top tips to make sure your ad gets noticed.
Tuesday, November 22nd 12-1pm by Dylan
Tips For Creating Your First Website Dylan will teach how to set up a domain name, find content, Management System, and how to launch a basic website.
Wednesday, November 23rd 5-6pm by Brook
Using Canva To Create Graphics for Your Business! Have you heard about Canva but looking to learn how to use it? Join Brook as she goes through the basics of using Canva for your business to make social media posts, flyers and more.
Tuesday, November 29th 5-6pm by Dylan
Top 5 Tips for Beginner Website Optimization & SEO. Dylan will teach how to use Google Lighthouse, how to optimize images for web, etc.
Wednesday, November 30th 12 – 1pm by Brian
Overwhelmed By Google Ads?In this workshop, Brian will teach you how to create targeted Google Ads and how to make them work for your business!
December 2nd from 12-1pm by Brook
Get Noticed On Your Social Media! Brook will teach you how to use canva to create marketing materials to make your social media stand out.
Wednesday, December 7th 12-1 pm by Brook
Manage Your Companies Facebook Page Like A Pro. Learn from Brook on how to use the powerful Facebook Business Suite to create and manage marketing campaigns, calendar scheduling and more to make your Facebook life easier!
For Questions please email: Bridget Postuma, bridget@nwoinnovation.ca