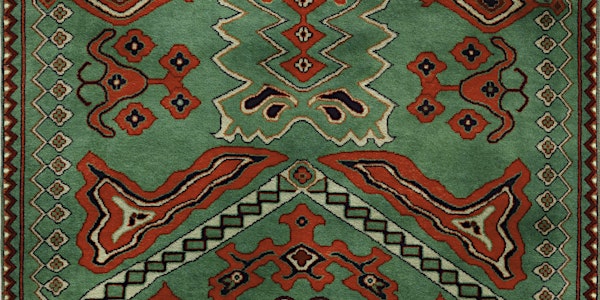 Digital & Textiles Workshop with Shaheer Zazai
An online workshop exploring patterns and designs with digital images and textiles led by artist Shaheer Zazai
By Doris McCarthy Gallery
Date and time
Thu, Mar 23, 2023 1:00 PM - 3:00 PM PDT
About this event
This online workshop offers the opportunity to create patterns and designs with digital images and textiles. Artist Shaheer Zazai will discuss his process and encourage participants to experiment with a variety of digital designs using Microsoft Word and Google Docs. Participants will learn more about and play with the visual vocabulary of colours and numbers that exist both in digital images as well as textiles.
This free program is open to everyone. It will be hosted on Zoom, with captions. If you have other accommodation needs, please let us know through the registration form or contact dmg.utsc@utoronto.ca. After registering, attendees will be provided with a Zoom link to use to join the workshop virtually.
This workshop uses Microsoft Word or Google Docs. If accessing either software is an issue, participants are also welcome to work with blank paper or graph paper and various coloured highlighters.
-----
Shaheer Zazai is a Toronto-based Afghan-Canadian artist with a current studio practice both in painting and digital media. His practice focuses on exploring and attempting to investigate the development of cultural identity in the present geopolitical climate and diaspora.
-----
ABOUT THE EXHIBITION
This program is presented in conjunction with the DMG exhibition Ornamental Gestures (January 21 – April 1, 2023), curated by Sandy Saad-Smith. Artists Virgil Baruchel, Millie Chen, Ruth Cuthand, Soheila Esfahani, Ed Pien, Tazeen Qayyum, and Shaheer Zazai take contemporary approaches to artmaking methods traditional to their cultural heritages – beading, calligraphy, wallpaper, visual motifs, and rug design and production – and push their mediums into new territories that play with scale, context, process, and material. Their works challenge the distinction between art and craft, and occupy a space between contemporary art and cultural tradition. Ornamental Gestures is generously supported by the Toronto Arts Council and Canada Council for the Arts.
-----
The Doris McCarthy Gallery at times records programs and events for the purposes of education, archive, and promotion. The Doris McCarthy Gallery will not use these recordings for commercial purposes. Participants will be notified at the beginning of a program or event when recordings will be taken. Please disable your video and/or microphone if you do not wish to be recorded.
The Doris McCarthy Gallery provides an open space for the critical and civil exchange of ideas. By registering for this program you agree to help create an atmosphere of mutual inclusion and respect for all persons. This includes speaking, acting and behaving in a way that is absent of violence, harassment, racism, intimidation, bullying or discrimination of any kind regardless of, and not limited to gender, sexual orientation, race, ethnicity, culture, age and ability.
-----
Image: Shaheer Zazai, detail, Carpet No. 4, 2022
About the organizer
The Doris McCarthy Gallery is a professional public art gallery within the University of Toronto Scarborough that advances artistic innovation, critical thinking, and cultural exchange through engagement with contemporary art.