Digital Transformation Strategy Workshop
Description
INTRODUCTORY DIGITAL TRANSFORMATION WORKSHOP
WORKSHOP OVERVIEW;

Digital technologies impact every part of our business. The question is whether we will wait for it to disrupt our business or will we instead harness the power of digital technology to transform our businesses to better meet our goals and objectives.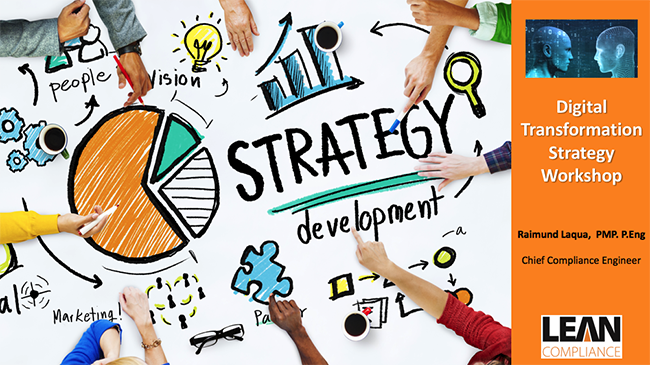 This introductory workshop is for anyone who wants to see their business grow.

You do not need to know or understand how digital technology works to benefit from this workshop.

What you do need to know is your business and desire for it to thrive in the digital economy.
Outcome:
Participants attending this workshop will develop a digital transformation strategy for their business to mitigate their #1 threat and exploit their #1 opportunity.
Objectives: Participants will learn to:

Create a balanced business scorecard for growth

Identify the threats that hinder and opportunities that advance their business goals and objectives

Develop a strategy to apply digital technologies to mitigate their #1 threat and exploit their #1 opportunity.
Time 120 Minutes Lunch will be provided.

Speaker Bio:
Workshop presented by Raimund Laqua, Founder and Chief Compliance Engineer at Lean Compliance Consulting, Inc. Mr. Laqua's focus is on helping ethical, ambitious companies, in highly-regulated, high-risk industries improve their compliance specifically: safety & security, quality, regulatory and environmental programs.
Mr. Laqua began his career working for Gennum Corporation, a semiconductor manufacturer in Burlington, Ontario where he took on the role of managing and directing IT strategy, engineering CAD, along with ERP management systems.
He has consulted for over25 years applying his technical knowledge and strategic approach to advance critical processes across: oil & gas,
energy, pharmaceutical, medical device, government, and technology start-ups. He offers a number of online training courses on Lean Compliance and also has weekly newsletter and blog on Lean Compliance.