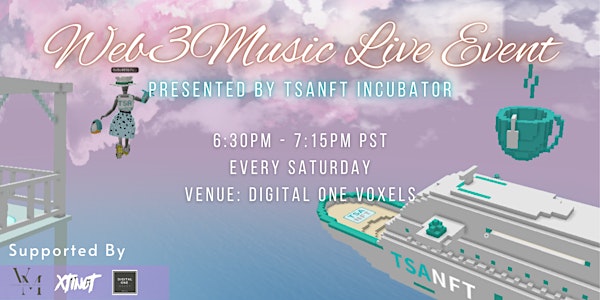 Digital20/20 Web3 Music Live Event - Presented By TSANFT Incubator
TSANFT Incubator is so excited to present the Web3Music Live Event on Voxels, together with artists- XTincT and Vessy Mink!
About this event
DigitalOne Presents BlockChain Homies , A music showcase in the Metaverse organzied by TSANFT Incubator .
We are featuring musicions incluing:
Vessy Mink - 10min set
KingLeothegod - 5-10min
Master23Mind - 5-10min
Insider productionz - 10min
Queen Earth -5-10min
Rhino The Neurosurgeon -5-10min
Shark Anthony - 10min
NS5NS5 - 10min
Ivan Mathelli -5-10min
Capitan Fuego - 5-10min
Dope Stilo - 10min
Nile X Nile - 5-10min
5unde' - 5-10min
Lord Haiti - 5-10min
Kane Mayfield - 10min
XTincT - 10min
During the concert, we will also have live music, airdrops of wearables & accessories and so much more!
Time: 6:00 PM - 7:00 PM PST, Every Saturday
Venue: https://www.cryptovoxels.com/play?coords=E@1175.5E,791N
Join Discord for support: discord.gg/49xUD5NCGD
Join Whitelist for airdrops: https://forms.gle/cwQSy96o3zeJJUsFA