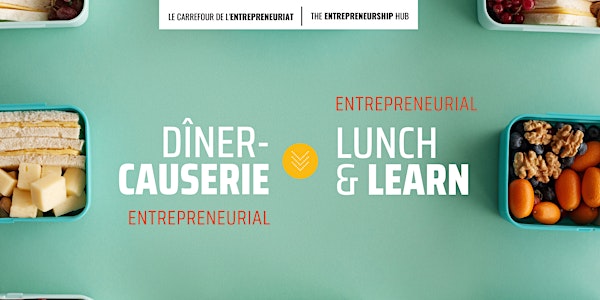 Multiple dates
Dîner-causerie entrepreneurial | Entrepreneurial Lunch & Learn
Obtenez les plus récentes nouvelles en matière d'entrepreneuriat! | Get the latest scoop on all things entrepreneurship!
By Carrefour de l'entrepreneuriat | uOttawa | Entrepreneurship Hub
Date and time
Tue, May 10, 2022 9:00 AM - Tue, Jul 11, 2023 9:15 AM PDT
About this event
L'entrepreneuriat est florissant à l'Université d'Ottawa ! Vous voulez savoir quelles ressources entrepreneuriales sont offertes pour appuyer la population étudiante, les chercheurs(euses) et les jeunes diplômé(e)s ?
Retrouvez-nous lors de nos rencontres mensuelles pendant les séances au cours de l'année 2022/23. Les séances ont lieu le deuxième mardi du mois.
Au cours de chaque séance de 45 minutes, l'équipe du Carrefour de l'entrepreneuriat vous renseignera sur :
les dernières réussites entrepreneuriales mettant en vedette des étudiant(e)s, des chercheurs(euses) et de jeunes diplômé(e)s de toutes les facultés.
les programmes et événements à venir pour encourager les entrepreneur(e)s en herbe et d'expérience.
les échéances importantes concernant les bourses d'études en entrepreneuriat et les possibilités d'apprentissage par l'expérience.
Des activités qui aident les étudiant(e)s et les chercheurs(euses) à développer leurs compétences entrepreneuriales afin de les aider à mener leur carrière et à faire avancer leurs recherches.
Vous ne savez pas si vous devriez participer ? Ces séances d'information sont idéales pour les:
Responsables du marketing et de la communication
Conseillers(ères) académiques
Coordonnateurs(trices) des centres de mentorat
Agent(e)s de liaison et de recrutement
Membres du personnel travaillant directement avec la population étudiante et les chercheurs(euses) à l'Université d'Ottawa.
Corps professoral qui offre un cours sur l'entrepreneuriat, l'innovation, l'entrepreneuriat social ou l'innovation sociale.
Le personnel intéressé par le lancement ou le développement de programmes ou de cours favorisant un esprit entrepreneurial.
------------------------
Entrepreneurship is thriving at the University of Ottawa! Want to know what entrepreneurial supports are being offered to support our students, researchers and young alumni?
Join us during your lunch hour as we meet monthly during the fall and winter terms. Sessions are held the second Tuesday of the month.
During each 45-minute session, the Entrepreneurship Hub team will fill you in on:
The latest entrepreneurial success stories featuring students, researchers and young alumni across all faculties
Upcoming programs and events to support experienced and budding entrepreneurs
Important deadlines for entrepreneurial scholarships and experiential learning opportunities
Activities that help students and researchers build their entrepreneurial skills to help them with their career and further their research
Not sure if you should attend? Lunch & Learn sessions are ideal for:
Marketing and Communication Coordinators & Officers
Academic Advisors
Mentoring Centre Coordinators
Liaison & Recruitment Officer
Any staff working directly with the student population and researchers at uOttawa
Professors who are teaching a class related to entrepreneurship, innovation, social entrepreneurship or social innovation
Staff interested in starting or growing programs or courses that foster entrepreneurial thinking