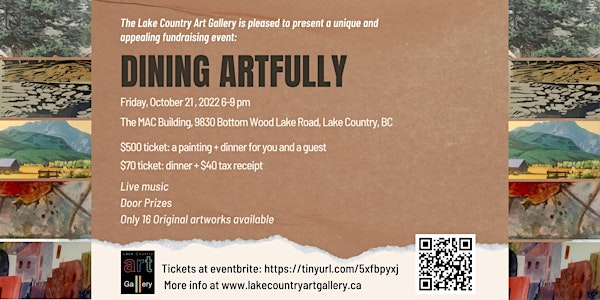 Dining Artfully : Exclusive Dinner & Art Fundraising Event
Each $500 ticket covers dinner for two plus one painting to take home. Painting values range from $500 to $1,500
When and where
Location
To be Confirmed Lake Country Art Gallery Lake Country, BC V4V 1T9 Canada
About this event
The Lake Country Art Gallery is pleased to present a unique and appealing fundraising event:
Friday, October 21, 2022
6:00 – 9:00 pm
At the MAC Building, 9830, Bottom Wood Lake Road, Lake Country, BC
Join us in Dining Artfully for an evening of live music, fine dining, good company and of course ART! One $500 ticket gives you and a guest a unique dining experience as well as the pleasure of taking home an original art piece of your choice at this evening of intrigue. Limited to only 20 tickets available so first come first serve.
A second level of Dining Artfully is a $70 ticket which will provide the dinner only, and a $40 tax receipt.
Here is how the allocation of an original painting will take place.
- The 20 paintings will be on display around the room
- Each painting will have a bid sheet next to it
- All holders of the $500 Painting ticket will choose the painting of their choice, and place their name on the bid sheet – the amount being $500.
- Anyone who may be interested in that same painting may put their name on the next line of the bid sheet, and add an amount greater than the bid above.
- In this way, there may be some competition among the buyers.
The mysterious twist, the unknown, is which painting will you go home with.
Paintings:
There will be 20 paintings to choose from.
The artists include Andrew Kiss, Geert Maas, Gladys Good, Mary Eagle, Tuck Caldwell, Murray Johnston, and others.
The styles of images will range from realistic to stylized to impressionistic.
The values of the paintings range from $500 to $1,500.
Schedule for the Evening:
6:00 – 7:00 Happy Hour – Look at artworks, place bids
7:00 – Dinner is served
8:30 – door prizes, and final call for bids
9:00 – announce who gets which painting
Enjoy a unique and wonderful evening, take home a new painting, and feel good that you have supported the Lake Country Art Gallery so it can continue to provide all the special programs it does for various communities groups, and so it can continue to offer thought provoking and delightful exhibition for everyone.