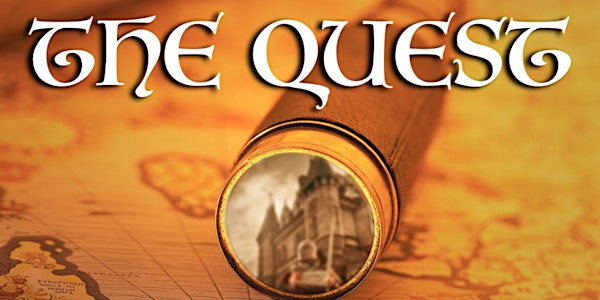 Dinner and Escape: The Quest
Event Information
Location
Hammond Golf and Country Club
600 Du Golf Road
Hammond, ON K0A 2A0
Canada
Refund policy
Contact the organizer to request a refund.
Eventbrite's fee is nonrefundable.
Enjoy an escape room and a $25 dinner voucher at Hammond Golf! Each group has a max of 10 people. For details email events@hammondgolf.com
About this event
We partnered with our friends at Mobile Escapes (www.mobileescapes.ca) to bring in their mobile escape rooms on a weekly basis. The first part of your evening will take place in our conference hall, where the Mobile Escapes team temporarily set up their escape rooms at two opposing areas of the conference hall. With a 10-15 minute intro, your team will then have 45 minutes to try to solve the escape room. The second part of your evening will consist of a dinner inside our restaurant, where you will have a 25$ voucher towards your meal and drinks.
Please note that if you sign up for a team of fewer than 10 players, there is a chance that you get paired with another smaller group to fill the total spot of 10 players per group.
Here is this month's scenario:
King Alfred has sent you and your squad of elite knights on a quest of a lifetime! Your goal is to infiltrate Castle Ryre and steal their secret potion for eternal life. You have successfully entered the castle while the enemies are out celebrating an infamous wedding. Suddenly, you hear a loud cheer coming out of the horizon! Using your monoculars, you see that the enemies are on their way back and realize that you have a maximum of 45 minutes before their arrival at the Castle. Will your squad find the secret potion in time and become immortal? Or will you get thrown in the dungeon for the rest of your life?
Nous avons collaboré avec nos amis chez Évasions Mobiles (www.evasionsmobiles.ca) pour faire venir leurs salles d'évasions mobiles chaque semaine. La première partie de votre soirée se déroulera dans notre salle de conférence, où deux salles d'évasion mobiles auront été installées par l'équipe d'Évasions Mobiles aux extrémités opposées de la salle. Suite à une introduction de 10 à 15 minutes, votre équipe aura 45 minutes de jeu pour tenter de résoudre la salle d'évasion. La deuxième partie de votre soirée sera un souper à l'intérieur de notre restaurant, où vous aurez un bon de 25$ pour votre repas et vos boissons.
Veuillez noter que si vous vous inscrivez pour une équipe de moins de 10 joueurs, il y a une chance que vous soyez jumelé avec un autre groupe plus petit pour remplir la place totale de 10 joueurs par groupe.
Voici le scénario du mois:
Le roi Alfred vous a envoyé, vous et votre escouade de chevaliers d'élite, dans une quête de votre vie ! Votre objectif est d'infiltrer Castle Ryre et de voler leur potion secrète pour la vie éternelle. Vous êtes entré avec succès dans le château pendant que les ennemis célèbrent un mariage infâme. Soudain, vous entendez une grande acclamation sortir de l'horizon ! A l'aide de vos monoculaires, vous voyez que les ennemis sont sur le chemin du retour et réalisez que vous avez 45 minutes maximum avant leur arrivée au Château. Votre équipe trouvera-t-elle la potion secrète à temps et deviendra-t-elle immortelle ? Ou allez-vous être jeté dans le donjon pour le reste de votre vie ?
Date and time
Location
Hammond Golf and Country Club
600 Du Golf Road
Hammond, ON K0A 2A0
Canada
Refund policy
Contact the organizer to request a refund.
Eventbrite's fee is nonrefundable.