Join Manitobans across the province in celebrating Disability Employment Awareness Month (DEAM) this October!
About this event
"The Future of Work: Accessible & Inclusive Employment During COVID-19 & Beyond"
Date: Thursday, October 29, 2020 Time: 2 to 3 p.m. CDT.
Details: Prior to the event, you will receive a password protected Zoom event link and instructions.
*** REGISTRATION NOW CLOSED ***
The webinar will be presented in English with ASL Interpretation and captioning. Please indicate whether you require other disability accommodations during registration.
If you have further questions, or concerns, please contact the Disabilities Issues Office at:
dio@gov.mb.ca
(204) 945 - 7613
1-800-282-8069 (Ext. 7613) (toll-free)
Webinar Agenda
You Will Learn About:
- The importance of accessible & inclusive employment
- Universal trends affecting the future of work and the impact on people with disabilities, including during COVID-19
- Best practices in accessibility for businesses and organizations during COVID-19
Featuring Keynote Speaker:
Shane Kanady, VP Workforce Development, Source America & Sr. Fellow, Portulans Institute
More DEAM Online Activities
Join the #DEAM2020 conversation on social media
• Go to accessibilitymb.ca to download the DEAM toolkit.
• Share the toolkit and content with others on social media.
• Share personal stories of accessibility and inclusion, using the hashtags #DEAM2020 and #AccessibleMB.
• Like & follow the Manitoba Government on Facebook and Twitter.
• Like & follow Manitoba Possible on Facebook, Instagram, LinkedIn, and Twitter.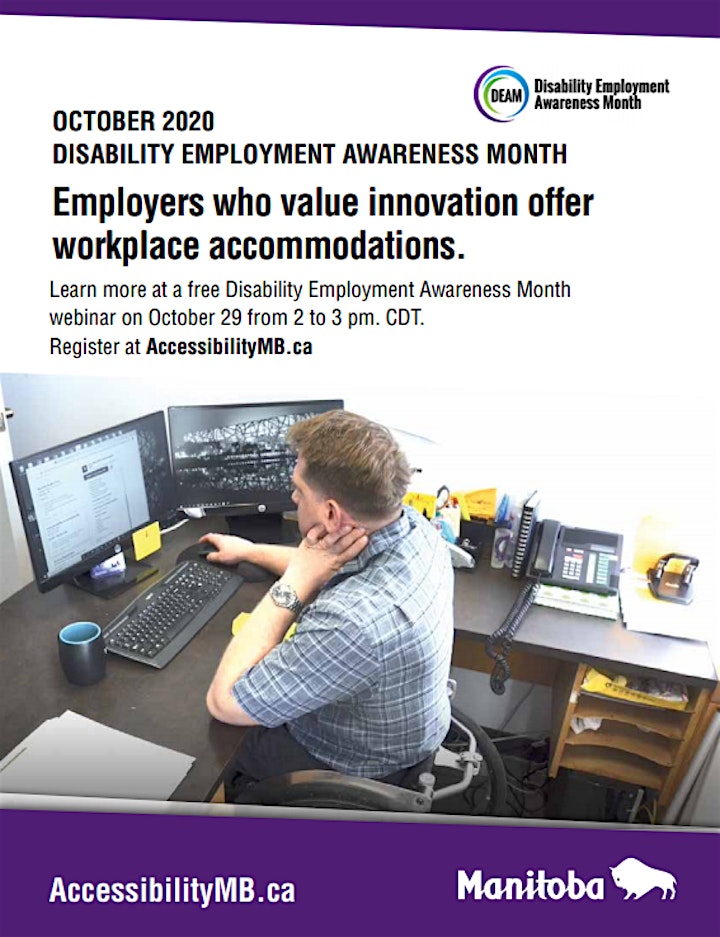 Organizer of Disability Employment Awareness Month (DEAM) 2020