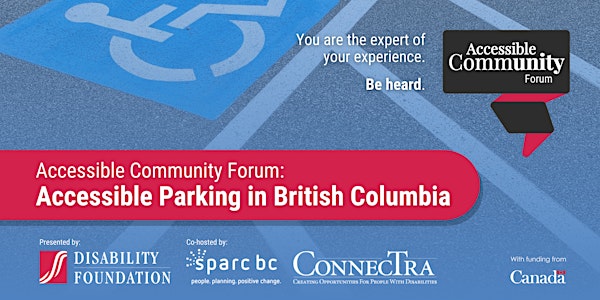 Disability Foundation's Accessible Community Forum: Accessible Parking
Join your community in an open and inclusive dialogue to discover the barriers and possibilities for accessible parking in BC.
About this event
Do you feel you have equitable access to accessible parking in British Columbia?
Join us in celebrating International Day of People with Disabilities (IDPWD) on December 3rd, 2021 from 1:00-3:00pm PT in this inclusive and informative online event!
Presented by the  Disability Foundation  and co-hosted by the  ConnecTra Society and the Social Planning and Research Institute of BC (SPARC BC), this next Accessible Community Forum aims to cultivate a conversation between various organizations and our community of people living with disabilities.
Accessible parking is a frequent topic of discussion in our outreach, previous Accessible Community Forums, and affiliated societies' regular programming. Through our survey and forum, we will build on our current knowledge and broaden our understanding of your needs.
With one in five Canadians (and approximately 15% of British Columbians) living with one or more disabilities, it is incredibly important that parking is accessible to all.
Help us explore possible solutions and resources to bridge the gap between the accessible parking you currently experience, and what it could become. This is an open, honest, and inclusive dialogue between a panel of organizational representatives and our beautiful province's diverse disability community.
This next Accessible Community Forum takes place on Zoom and includes the following panelists;
Start the conversation by taking the Accessible Parking in BC Survey by November 26th at 11:59pm. Click here to take the survey.
You are the expert of your experience. Be heard.
If you require any assistance to take the survey, register, or attend this event - please email us at info@connectra.org. Closed captioning will be available.
Learn more about the Disability Foundation's Accessible Parking Awareness Month campaign this November at disabilityfoundation.org/spottaken.
Check out our previous Accessible Community Forums at disabilityfoundation.org/acf
---
About the Disability Foundation:  Established in 1985, and based in Vancouver, B.C, the Disability Foundation strives to support people with physical disabilities by supporting accessible programs to enjoy outdoor activities, make social connections, and access personalized adapted devices. With the support of our well-rounded, multi-disciplinary board members, our leadership team has experienced a great deal of success in empowering the disability community to re-imagine what is possible.
About the ConnecTra Society:  Formed in 1999 by Vancouver tetraplegic Sam Sullivan, the ConnecTra Society is a connecting agency, linking people with physical disabilities to activities and programs that will, over time, allow them to grow, gain confidence and become increasingly more active and involved in community life. We aim to get all people with significant disabilities living in the British Columbia as socially active and involved as possible through our workshops and other resources.
About SPARC BC: Established in 1966, SPARC BC's mission is to work with communities to build a more just and healthy society for all. For over 50 years, they have worked in partnership with individuals, organizations and all levels of government to meet the social development needs of people and communities to promote positive social policy change. SPARC BC is responsible for the Parking Permit Program in British Columbia.