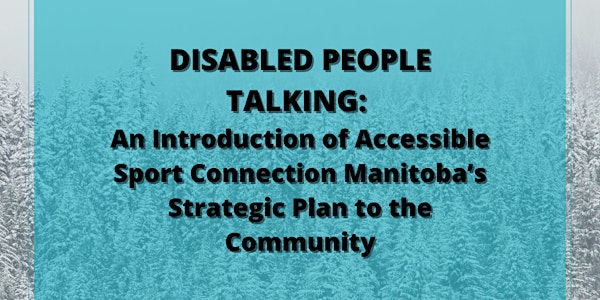 DISABLED PEOPLE TALKING
An Introduction of Accessible Sport Connection Manitoba's Strategic Plan to the Community
About this event
On Saturday January 16th, Accessible Sport Connection Manitoba hosted its first event of the New Year. Disabled People Talking: A Virtual Conversation on Accessible Sport in Manitoba. The support and encouragement from our community was beautifully interwoven in stories and experiences reflected upon by everyone who attended.
The positive feedback following our first event clearly demonstrated the depth of passion and the need to include disabled voices in Accessible Sport and Recreation programming in Manitoba. It also showed the genuine heart and commitment of our disability community allies. A number of people reached out post event hoping to participate more in our community.
ASCManitoba spent the majority of 2020 meeting virtually and creating a Strategic Plan for our Organization. We would love an opportunity to share our vision with the community.
With support from the Safe at Home Manitoba grant join us on Saturday, February 13 at 3pm, to hear our Strategic Plan, meet members of our team and have an opportunity to ask us questions and share your thoughts about the future of Accessible Sport in Manitoba. If you require any adaptations to make this event accessible to you, please contact us at mbaccessbilesport@gmail.com
The time limit for individuals who are inspired to share their thoughts will be three minutes. All perspectives are welcome, Whether you are a person with a disability, an Accessible Sport and Recreation program facilitator, or community ally. Your voice matters.
We look forward to hearing from you and connecting with friends, old and new.
This event will NOT be recorded.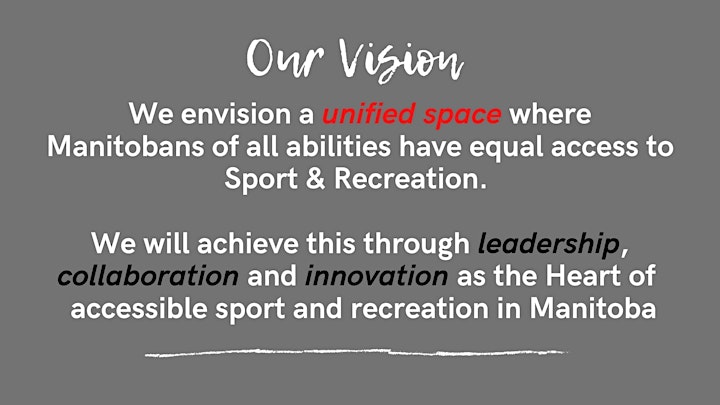 Visit www.safeathomemb.ca/stay-home/ for a full list of FREE events being hosted by Manitobans and supported by the Safe at Home Manitoba Grant.