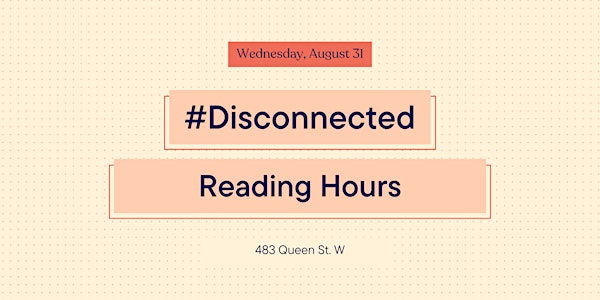 #Disconnected | Reading Hours at Coral
Unplug from your screens and join us for a creative, social evening.
When and where
Location
Coral 483 Queen Street West #3rd floor Toronto, ON M5V 2A9 Canada
About this event
Take a break from your screen for the evening and make time for things that you promised yourself you would do more of this year. At this event, you're encouraged to bring a book of your own, or choose from our library. There'll be an hour of quiet time to read and get comfortable, followed by some time to connect with other members of the community to chat about what you're reading, or anything else!
The point of this event is to carve out time away from your screens for yourself, and connect with the community.
Itinerary
5:00pm - 6:30pm | Arrive, grab a drink, and find a spot to hang out.
6:30pm - 7:30pm | Grab a snack and find a new pal to chat with. Or keep reading! Up to you.
_ _ _ _ _ _ _ _ _
Coral is an inclusion-driven community and coworking space designed to serve as a "third place" for Toronto's tech community. We have intentionally created a space that prioritizes inclusion, diversity and accessibility. A space where all of our members and participants can feel welcome and empowered to be themselves, without judgment.
Our events and social gatherings are a reflection of our values and our community. We aim to extend and uphold a culture of inclusion, safety and mutual respect for all members, participants and attendees. As an attendee of an event in our space, you're encouraged to participate and engage with others in the space. Juno does not tolerate any form of homophobia, racism, sexism, transphobia, ableism, ageism, sexual harassment, assault, discrimination, or violence.