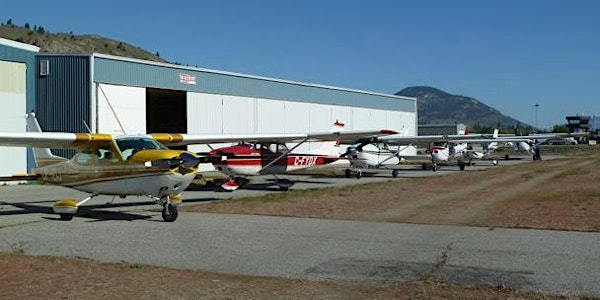 Discover Aviation Penticton - FREE FLIGHTS FOR AGES 8 TO 18
FREE INTRODUCTORY FLIGHTS FOR AGES 8 TO 18 AT PENTICTON AIRPORT, ORGANIZED BY THE PENTICTON FLYING CLUB, COPA FLIGHT 50
When and where
Location
Penticton Flying Club Airport Road Penticton, BC V2A 8X1 Canada
About this event
Introductory, 15 minute Flight in a Small Aircraft flown by pilots who are volunteering their time and aircraft.
In order to register a youth for the Discover Aviation Event, you must fill in the form at this link: https://copanational.org/sites/copanational.org/wp-content/uploads/2022/04/Discover-Aviation-Waiver-Forms-Print.pdf
NOTE** When registering, it is the Junior Aviator's info rmation we need for the paperwork and the TICKET TO FLY.
You will receive your Ticket To Fly by email from Eventbrite, so please make sure your address is correct, because this is your confirmation that a spot has been reserved for your child.
Parent/Guardian: Please read the Registration and Waiver forms carefully before signing.
The Registration/Waiver form will be emailed to you from Discover Aviation Penticton. If you don't receive the forms, please contact them at disc.av.penticton@gmail.com
One printed, hard-copy form for each participant is required.
Parents/Guardian must sign the waiver (on the back of the Registration Form).
We must have an actual paper copy of the forms before you can fly! We cannot scan your phone for the forms!
Registration Forms and Waivers must be completed prior to entry to the event.
PRINT a hard-copy and BRING TO THE AIRPORT the Ticket to Fly AND your completed, signed Registration / Waiver forms.
If you do not bring the completed paperwork, you will be asked to fill out the forms again.
Appropriate footwear is a must. NO flip flops or sandals. Running shoes or other closed toes shoes are safest.
Please be at the Flying Club at least 15 minutes prior to the time specified on your Ticket to Fly to go through the check-in process. Please don't arrive an hour before your flight time as there is only so much room in the clubhouse for young aviators and their parents. We don't want folks standing out in the hot sun any longer than necessary.
Latecomers risk losing their spot to a Stand-By Passenger.
Groups of ten will go through the program starting on the hour and half hour from 8:00 to 1:00pm.
Current Provincial Health Guidelines will be followed regarding COVID-19 so be aware that you may be asked by your pilot to wear a mask while in the aircraft. You may also choose to wear a mask if that is your preference. If you are sick, please DO NOT COME to the airport and please call the organizers to cancel.
Please note that the organizers may have to postpone the event at any time, without notice, due to weather or other safety issues and concerns.
How do I contact Discover Aviation Penticton if I have any questions?
Email to: disc.av.penticton@gmail.com
Address: Penticton Flying Club
126 Dakota Way, at Penticton Airport,
BC, V2A 8X1
Tel: 778 688-1831