About this Event
This session is for not just for product owners who are starting out, but for any member of an Agile team. A lot of micro-learning is involved with this topic, but this will serve as an introduction to a large part of what product owners and other agile team members need to understand in order for the team to be successful.
Participants will gain an understanding of:
DevOps objectives and vocabulary,
why DevOps is so important for the Product Owner and other team members to understand,
processes and practices such as: Continuous Integration, Four Values and the Three Ways,
An understanding of how DevOps relates to Agile, Scrum, and other areas.
Background
"I heard about this devops thing. Can you find out how to buy it?"
…Sound familiar? Even if it doesn't, do you know what DevOps is? Maybe you think you do. It's not a thing you can buy necessarily, nor is it a mythological beast. We're here to share some ["that-can't-be-true!"] scenarios of how implementing DevOps can benefit your team and their work. AND we'll tell you in a way that will even make sense to your dinner guests on the weekend. That's just it - this session isn't for techies. It's for anyone working close to or on a team who is working on digital products. It's not 1992 anymore. Welcome to DevOps!
A brief history:
Once upon a time, developers would throw their code over the "wall" to operations who would keep the code running in production.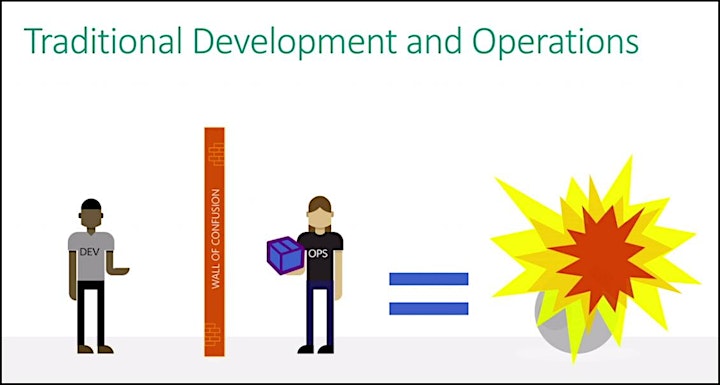 Developers didn't really understand the operational practices and operations didn't really understand the code bases.
Developers wanted to ship code. Operators were only concerned about reliability…
This caused TENSION because developers wanted to move fast and push out more code, and operators wanted to move s l o w e r to keep things stable.
DevOps is a set of practices and culture to break down the barriers between these areas, by doing the following:
• Reducing organization silos
• Being accepting of failure
• Implementing change gradually
• Leverage tooling and automation. Why do more manual work?
• Measuring everything! How would you know if you were successful if you had nothing to compare it to?
Resources
Future Course Offerings:
We publish course dates around 4 times a year and notify our mailing list when new sessions are added. Subscribe to the BCDevExchange newsletter today!
Is the session full? Please add your name to the waitlist as we will be scheduling more sessions based on demand. Thank you.