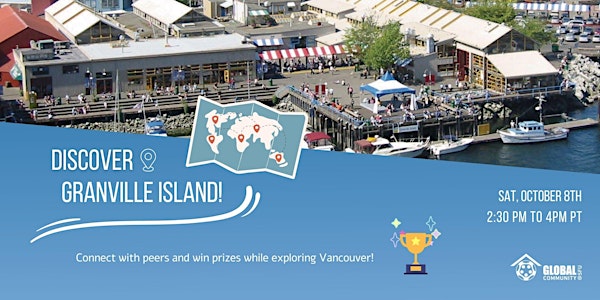 Discover Granville Island
Join the Global Connections Program for an exciting trip to Granville Island on October 8 from 2:30-4:00 PM (PT)!
When and where
Location
Granville Island 1689 Johnston St Vancouver, BC V6H 3R9 Canada
About this event
Looking to explore Vancouver and immerse yourself in local culture, while making connections with your peers? Join the Global Connections Program for a fun excursion to Granville Island!
Note that this event is only open to current SFU students.
*For GCP members, the Access Code for tickets will be in the GCP Weekly Newsletter sent on September 29. Please contact gcmp@sfu.ca if you have any other questions.
1. EVENT SCHEDULE
2:30pm-4:00pm
Bingo Activity: Once we arrive at Granville Island, we will break off in teams, for a fun round of bingo. You will have a chance to explore Granville Island in the search for exciting spots and cultural landmarks. Fill out your bingo scorecard for a chance to win fun prizes.
Treat Time: We will also be having a delicious treat after completing the bingo!
Optional (4:00pm-5:00pm): After the event ends, feel free to stay and explore Granville Island, and get a coffee or tea with us - free of charge.
2. HOW TO GET THERE
You will have the option to meet at SFU Burnaby, SFU Surrey, or SFU Vancouver to travel together with the group. More details to follow once you register!
3. NEXT STEPS
Once you have signed up for the event:
Regularly check your SFU email for important information + reminders regarding the event.
Email gcmp@sfu.ca ASAP if you are unable to attend the event after you have signed up. This event has limited capacity so we want to ensure that everyone who signs up is able to attend the event.
Get excited! This is GCP's first in-person event of the term!
***This event is not an officially sanctioned activity of SFU. Students taking part in this event elect to do so at their own risk.***
***Please note that any pictures that are taken at the event may be used for future promotion. If you don't want your pictures to be used, feel free to let us know.***
What to wear: Comfy, warm clothes and runners are suggested. Winter months are also nearing, so please ensure that you dress appropriately for the weather.
Do I need to bring any money? Your participation in the event will be of no cost to you; however, if you would like to purchase any souvenirs and such from the local shops there, please bring the appropriate amount of funds with you.
What to bring: Your compass card to take public transit, a bottle of water for yourself to drink, and an umbrella in case it is raining.