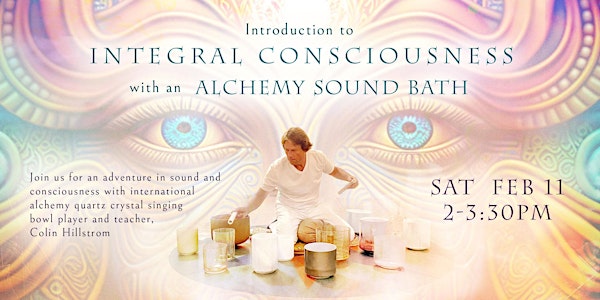 Discover Integral Consciousness: Sound Bath & Intro by The Psychedelic CEO
Join us for an exploration into expanded states of consciousness with a sound bath plus an introduction into the use of psilocybin mushrooms
When and where
Location
Yoga Nova 3519 14 St SW Calgary, AB T2T 3W2 Canada
About this event
1 hour 30 minutes

Mobile eTicket
Colin Hillstrom's Chakra Sound Bath was an incredibly uplifting experience; it was like a symphony that harmonized with the language of my soul. Nevenka Webster, Fitness Professional, Vancouver
WELCOME TO ADVENTURES IN SOUND AND CONSCIOUNSESS
Join us for an exquisite experience of deep relaxation plus a journey into expanded states of consiocuess. This event is offered in a conveniently located beautiful environment for health and transformation. It is co-sponsored by THE PSYCHEDELIC CEO.
WHAT TO EXPECT
We will begin with a brief exploration into the quantum field of infinite, integral consiousness and awareness so that you can gain an expanded perspective of previously unthought of possibilities and potentialities for business, career, health, success, love, and romance.
Then, you will be invited to immerse yourself into an acoustic energy field generated with a set of high vibrational alchemy quartz crystal singing bowls.
Finally, you will be introduced to the benefits of psilocybin mushrooms through a discussion led by the author of THE PSYCEDELIC CEO, Murray Rogers.
ABOUT COLIN HILLSTROM
Colin Hillstrom is an internationally recognized sound healer, teacher, mentor, author, and recording artist. Colin has led organizational teams through the field of quantum consciousness, and has played hundreds of sound baths since 2015. He has recently returned from Costa Rica where he has started playing and streaming sound baths from paradise.
EXPERIENCE COLIN'S CD CRYSTAL SOUND JOURNEYS:
https://colinhillstrom.bandcamp.com
ABOUT THE BOWLS
Relax into this sacred space as certified sound healer and recording artist Colin Hillstrom plays a set of 15 Crystal Tones alchemy singing bowls in the range of 432 hz (the sonic geometry of the universe) that contain precious and semi-precious stones including 24-karat gold, white gold, platinum, pink tourmaline, ruby, emerald, rose quartz, and many others. Colin had assembled this set of bowls not only for its high vibrational benefits, but also for many therapeutic benefits, including:
Opening, clearing, and aligning the chakra (energy) system
Balancing the endocrine (hormonal) system
Strengething the immune system
Activating untapped, unused areas and powers of mind and brain
Enhancing cellular health and function
Raising the frequency of your attractor field
Simply feeling happier
432 HZ COSMIC CONSCIOUSNESS
Tune your body, life, and mind to the crystalline frequencies that invite greater health, wellbeing, and creativity simply by immersing yourself into a high vibrational acoustic energy field. 432 Hz is widely recognized as the sonic geometry underlying the process of universal creation, and the very matrix of existence. Colin plays Crystal Tones alchemy quartz singing bowls which contain precious and semi-precious metals and gemstones such as platinum and azeztulite, which connect us to the Divine Mother and the I AM consciousness.
EXPERIENCE COLIN'S CD:
Listen into Colin's CD CRYSTAL SOUND JOURNEYS:
https://colinhillstrom.bandcamp.com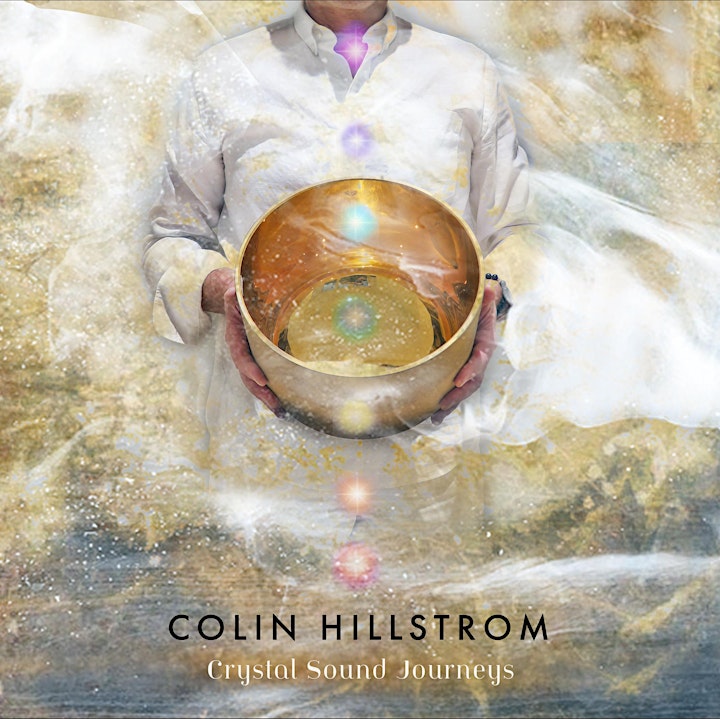 Questions: Call or text Colin Hillstrom at 403-708-7408
Colin has a great heart spirit, and is able to bring his audience to love. He sets the tone of playfulness, as well as honoring the deep powers of spirit. Nancy Shipley Rubin, author of "The Manifesting Codes"
NOTE: This event is co-sponsored by THE PSYCHEDELIC CEO
Psychedelic CEO Murray Rogers leads psilocybin retreats for CEO's just outside of Calgary. He will be giving a brief introduction to this fascinating and rapidly growing medium for expanding consciousness with a Q&A period. For more details please visit his website.
LOGISTICS
This event is held at a beautiful upscale yoga studio in Marda Loop, Calgary. Please bring for your comfort:
Yoga mat to lie on
Pillow, blanket, cushion
Water bottle
Important:
Please arrive by 1:45, we start on time, there will be no late admittance nor refunds.
Questions:
Call or text Colin Hillstrom direct: 403-708-7408