Presented by Korean Canadian Cultural Association in Partnership with George Brown College School of Media & Performing Arts
About this event
DISCOVER KOREA - Smartphone Filmmaking Workshop
Workshop
Schedule: Nov. 30 & Dec. 7, 2019, 10 AM - 2 PM (TBD)
Location: George Brown College (230 Richmond St. E. Toronto)
Registration: Eventbrite (Search Discover Korea: Smartphone Filmmaking Workshop)
Fee: $20 (Non-refundable, snacks included on both days)
Screening
Schedule: Dec. 10, 2019, 6:30 PM - 9:00PM
Location: Korean Canadian Cultural Association (1133 Leslie St. North York)
- Finalists will be considered for awards (Røde Microphones pizes/TBA) for the best film award and the audience choice award
Students will: - understand smartphone camera as capture device.
- learn about Korean culture.
- practice, test and do hands-on exercises.
Instructor: Nicholas Koscik
Nicholas is an award-winning Polish-Canadian director, writer, and producer. One of his most notable films, Nature Boy, was the recipient of Best Picture, Best Actor, Best Editor and Best Sound at the 2018 Toronto Smartphone Film Festival's 48-Hour Kabaret. His other noteworthy works include Stanisław, Flower, and a documentary commissioned by Sears Canada entitled 70 Years of Sears. Nicholas specializes in narrative fiction and non-fiction. His experience in genres like comedy, drama, documentary, and horror renders him a unique and versatile filmmaker.
Partners: Toronto Smartphone Film Festival, Raindance Toronto, BNF Film Festival, Rode Microphones, Korean Canadian Arts Association, Galleria Supermarket
Media Sponsors: Arirang Korea TV, Korea Daily Toronto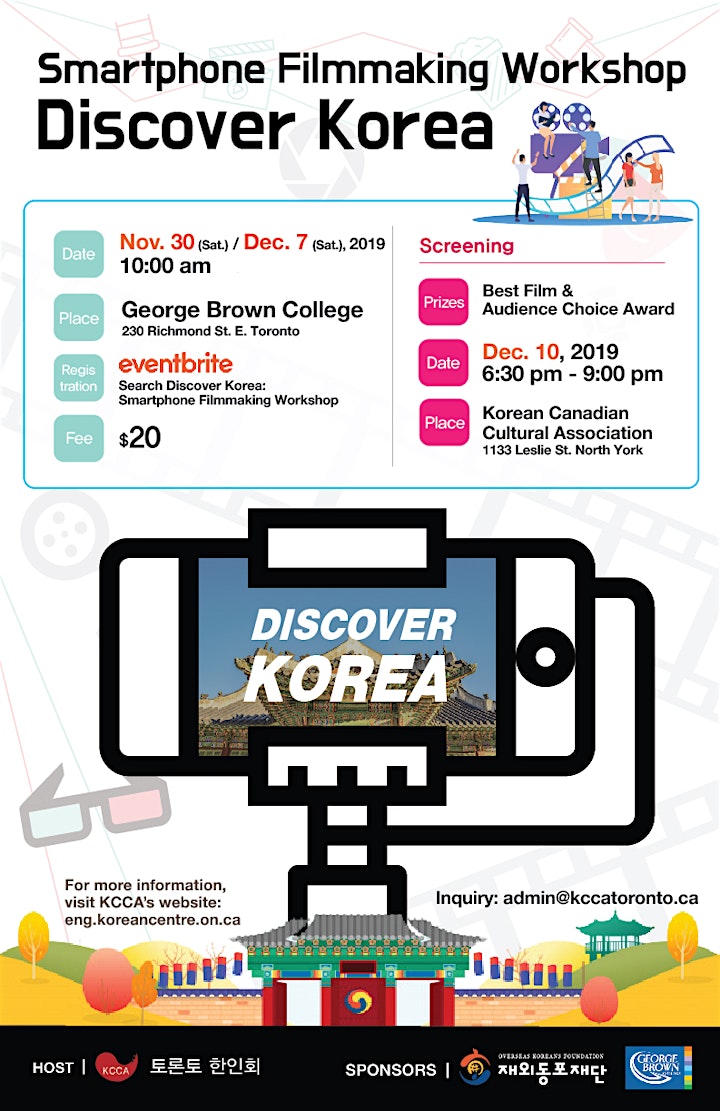 Organizer of DISCOVER KOREA: SMARTPHONE FILMMAKING WORKSHOP