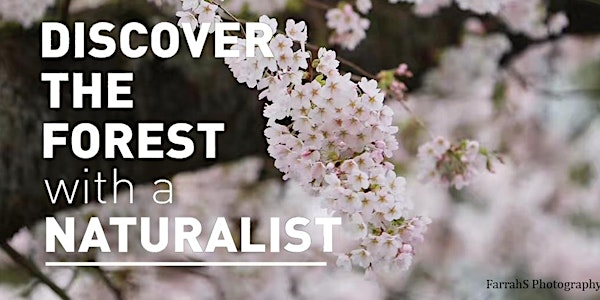 Discover the forest with a naturalist(The Third session)
Description
THIS PROJECT IS SUPPORTED BY UTOWN@UBC COMMUNITY GRANT.
Hi everyone
Thank you for choosing to participate in this project.This session we will go to the Botanical garden (amazing spring flowers of magnolia & rhododendrons)
UNA IS FREE (UNA 住户免费)
If you are not UNA, Please check the website of Botanical Garden to kown the Admission fee(如果您不是UNA住户,请查看网页了解门票费) http://botanicalgarden.ubc.ca/visit/admission/
Q & A
In order for each participant to have a wonderful experience, I will summarize the questions which will encounter as follows. Please check in advance and have a good ready.:)
1、Why do we want to organize these sessions?
We live so close to the forest but how much do we know about its mystery? We are fortunate to live in this amazing community but how much do we know each other? Come and discover our incredible natural environment with fellow neighbour explorers. We will be guided by a forest expert.
2、Who will guide these sessions?
Laura is an experienced naturalist who will lead the forest and nature exploration. She has a bachelor's degree both in forestry and education, and loves to talk to all ages of people about the forest. She has been employed by a company specializing in nature education for the past three years. Before that, she volunteered as a nature and forest educator for many years and has brought many children and adults on walks into the nature. Laura lives in Hawthorne neighbourhood and looks forward to exploring our beautiful nearby forests with families from this community!
3、Are there minimum age requirements to take part in the event?
Because it is a two-hour-long walk we highly recommend that participants are six and older. Younger children may accompany elder siblings. All children must be accompanied by a parent or guardian.
4、When and where do we meet up for the Second session?
We will meet up at 10:20 am Sat., Apr. 14 2018 at Botanical garden
5、How many people can we have in each session?
For a better experience, we limit our group to fourty people, thus we'll accept registrations until Feb.16 or until we reach 40 people in total (whichever comes first).
6、Can I join this session if I am on the wait list?
People on the wait list will receive priority for next session application. We will send your email to ensure you have a spot for the next session.
7、what if the weather rains?
Usually not cancelled unless heavy rain.So please re-check your e-mail prior 30 minutes before you set off,so as not to miss any new notice.(一般不会取消,除非暴雨,所以请在你出发前再次确认邮件,以免错过任何新的消息)
8、What can I bring into the event?
1.Please dressed appopritely for the weather (rain gear, rain boots, etc.) as session will take place rain or shine.
2.A notebook and a pen are a good choice to take some interesting notes.
3.Your curiosity and your questions about the forest.
9、What if I don't understand English ?
we have bought 2-3 UBC-related volunteers, who will assist translating and answering questions.
为了让大家有很好的体验,我们召集到了2-3个UBC相关专业的大学生来协助提供翻译和答疑。
10、what kind of documents do I need to sign?
Photo concern waiver and General waiver,we will send to you in advance.
11、What if I can not participate in the event after signing up?
Please let us know at least 2 days in advance, allowing others to have the opportunity to participate.
12、How can I contact the organizer with any questions?
If you have any questions do not hesitate to contact me, Lili via e-mail: Alice20061215@gmail.com
In case, the phone is :778-522-7867
如果您有任何紧急情况,请电话联系778-522-7867
Thank you and see you soon!
Laura & Lili