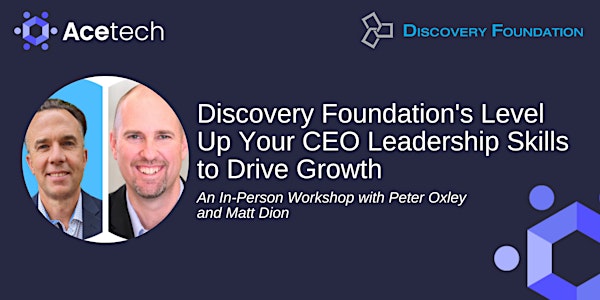 Discovery Foundation's Level Up Your CEO Leadership Skills to Drive Growth
Joins us for this in-person workshop with Peter Oxley & Matt Dion and learn practical leadership techniques from two experienced tech CEOs.
Date and time
Wed, Jun 7, 2023 3:00 PM - 7:00 PM PDT
Location
Versett 163 West Hastings Street #209 Vancouver, BC V6B 1H5 Canada
Refund Policy
Contact the organizer to request a refund.
About this event
This event is part of the Discovery Foundation's Growth Essential Program delivered by Acetech.
This workshop will offer actionable advice based on learned experience of tech CEOs who have faced the challenges of leadership in both good times and bad. It will provide participants with practical techniques that move beyond the theoretical and into the day-to-day application in their business to achieve sustainable growth.
Peter Oxley and Matt Dion will conduct this interactive workshop and share war stories based on lived experiences from running technology companies for the past two decades.
WHY ATTEND?
You will get dedicated and focused time to work "on your business" and not "in your business".
You will leave with tools and templates to work on with your leadership team to move your business forward.
You can ask any question you want from two grizzled CEOs that have many battle scars. Nothing is out of bounds.
This will not be a fluffy and typical "Captain Obvious" presentation about leadership skills. You will be pushed to lean in and get out of your comfort zone and encouraged to share where you are at and what you need with your team.
AGENDA
3:00pm - registration & networking
3:30-5:30pm - workshop
5:30-7:00pm - networking social
TICKET PRICES
Acetech Member - FREE!
Leadership Team - $15 per person; max of 2 per member company
General Public - $49 per person
Members can email chelsea@acetechleadership.com for the promocodes to access your FREE member ticket and discounted leadership team tickets.
BIOS
Peter Oxley | Principal - Oxygen Advisory
Peter has spent over 25 years in Founder, CEO, and Senior Leadership roles working for start-ups, scale-ups, and Fortune organizations with operations in dozens of countries. He has spent "time in the trenches" learning the hard lessons how CEOs can achieve breakout velocity for their companies.
Peter founded Oxygen Advisory to deliver on a mission of helping CEOs to confidently achieve their business goals without the usual neglect of their personal relationships and health. He coaches the CEO alongside the senior leadership team with the Metronomics business system to articulate a crystal clear strategy, build an A-Player team, and develop a culture of relentless execution to hit goals. Oxygen's tagline is "Grow Fast. Breathe Easier."
Peter and his wife (Chantal) live in the heart of Vancouver and are proud parents of two open-minded and respectful young men who are now blazing their own paths in the world. When not working with coaching clients, Peter can be found running in the woods or on the seawall, or doing any sport that combines sun and water.
Matt Dion | Principal - MDGS
With over 30 years experience as a CEO, C-level Executive, Board Member, Advisor and Investor, Matt has been part of many great growth stories, from one person in the garage to large multinational corporations. Matt recently sold his company and is now dedicated to bringing his wide range of leadership experience and perspective to his newest venture and passion - coaching CEOs and their leadership teams take their business to the next level of growth. Matt coaches his clients using Metronomics , a revolutionary business operating system he has been using and teaching since 2007.
Having been in the leader's shoes for many years, he has incredible empathy for the treacherous journey of the CEO. Matt has the experience and understanding to help hit the growth goals of the company while staying sane - living a work/life balance and keeping a good sense of humor.
As a recent empty-nester, the father of 2 wonderful girls (now women out changing the world) Matt spends his time in beautiful British Columbia between Vancouver and the Okanagan. Matt is an avid scuba diver and skier, plays drums in a band, optimistic but not that good golfer (yet) and enjoys great food and wine.
Supported by:
About the organizer
Acetech is a not-for-profit organization for leaders of companies innovating with technology. For 28 years we've fuelled the growth of tech leaders to accelerate the path of their company's success. We offer a winning combination of peer networks, an annual leadership summit, and executive training curriculum derived from the top business training centres in the world.