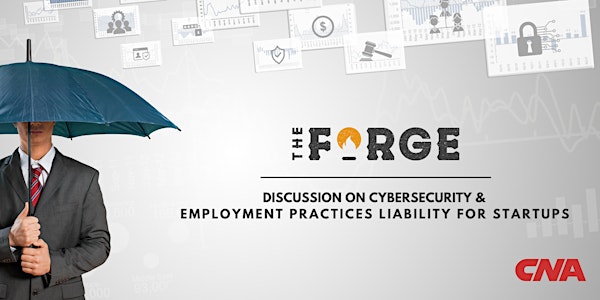 Discussion on Cybersecurity & Employment Practices Liability For Startups
Join us for a discussion on cyber security risks and employment practices liability.
About this event
The Forge, in collaboration with CNA, is hosting a one-hour workshop that will help you understand both cybersecurity risks & employment practices liability (EPL) risks and what you can do to better protect your startup.
AGENDA
1:00PM-1:10PM Introduction
1:10PM-1:35PM Cybersecurity Liability
Cybersecurity vulnerabilities and attacks have continued to increase in both frequency and severity over the past year, with no slowdown in sight. Threat actors are targeting organizations of all sizes, types, and industries, resulting in an increased need for a more proactive approach to securing systems and data. This presentation will discuss common cyber threats, best practices applicable to all organizations, as well as the coverages and benefits of a cyber insurance policy.
1:35PM-2:00PM Employment Practices Liability
The rising importance of Employment Practices Liability has been driven not only by the ongoing pandemic and changes in the workplace, but also the changing social landscape. This presentation will provide startups with the knowledge they need to easily navigate through employment practices liability risks.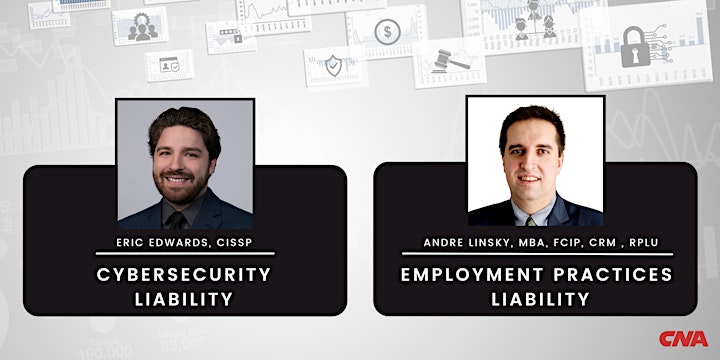 SPEAKERS
Risk Control Consultant - Cyber
Eric Edwards is a risk control consultant at CNA and supports risk control services provided to organizations holding cyber insurance policies. Prior to joining CNA, Eric was a cybersecurity consultant and manager at Crowe LLP. At CNA, Eric serves as a cybersecurity specialist in CNA's Risk Control unit. He is responsible for providing consultations with organizations of all sizes and industries seeking to mitigate cyber risk. He also provides technical expertise to the underwriting process for cyber risks. Eric graduated from the University of Illinois at Urbana-Champaign with a bachelor's degree in Information Systems and Information Technology. He is a Certified Information Systems Security Professional (CISSP) and a member of the International Association of Privacy Professionals (IAPP).
Andre Linsky, MBA, FCIP, CRM , RPLU
Underwriting Manager - Management Liability - Specialty Lines
Andre has been working in the insurance industry for the past 17 years occupying different roles in Quebec and Ontario. He has specialized in the Specialty Insurance field for the past seven years and currently occupies an Underwriting Manager role in Management Liability insurance lines at CNA Canada. Prior to joining CNA Canada in May 2020, Andre occupied underwriting roles with The Guarantee Company of North America and Liberty Mutual. He holds an MBA in Strategic Project Management from Universite Laval and also completed FCIP, CRM and RPLU insurance related designations. Andre also teaches part-time at the Insurance Institute of Quebec and is active within his local community; acting as the President of the Board of not-for-profit daycare centres, Les Lucioles Inc., since 2016.