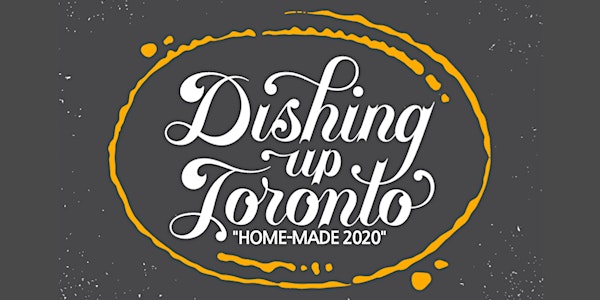 Dishing Up Toronto "Homemade": Love Letter to Toronto's Food & Food Makers
The idea here is to pause, in the middle of a pandemic, and think about food and the people who make it a pleasure to eat in Toronto.
Refund Policy
Contact the organizer to request a refund.
Eventbrite's fee is nonrefundable.
About this event
Toronto's food scene is, and will continue to be, one of Canada's most diverse. In this dynamic world of dining, newcomer and BIPOC cooks, entrepreneurs, caterers, and other food makers share their recipes and infuse the city with flavours from all over the world.
We're asking: what do you miss eating and where do you miss eating now? And, where will you eat and how will you eat differently after the pandemic?
Together, we're reflecting on missed meals and missed connections during lockdown. Our love letters remind us that a food system is based not simply on 'moving calories' but on human relationships.
Click the link up below up to 5 minutes before the start of the event:
Submit a " Love Letter":
As we recognize that Toronto will be "dishing up" very differently in the future, we encourage awareness of the diverse communities that work to feed this city.
We ask that you reflect on Toronto's food, and most important, the people behind it.
You can use the following questions for inspiration but can also get creative with your response - written, video, and audio responses encouraged! Feel free to answer as many questions as you feel inspired to!
Tell us about your favourite restaurant in Toronto and what makes it special.
Who/ what do you miss today in the midst of a lockdown when thinking about dining and food provisioning?
What is a Toronto-food experience you remember fondly? Who was behind this experience?
What type of place are you excited to get back to after the pandemic?
What is something you've learned from Toronto's food-makers and diverse food scene? A recipe? A life lesson?
Record your thoughts as a 100 word write-up, poem, an audio clip, or a video in whichever format and language you feel most comfortable.
Use the following Google Form to share your Love Letter OR Send us your "Love Letter to Toronto's Food & Food Makers" (written, audio, visual) to marketing@wardmuseum.ca
Please note: Sending your "love letter" means you are giving your consent for us to share your submission at our live event
Video Submission guidelines:
Recording on a smartphone or camera is ideal but using your webcam is also an option if those are not available to you
Hold device horizontally when recording
Find a quiet space with a clean, uncluttered background
Natural lighting is best, try to film your video during the daytime. If that is not possible, then use home lighting (room lights, lamps…) to ensure face is well lit
At the beginning of your video please mention your name and neighbourhood before you begin talking about your favourite restaurant, using questions listed above as prompts
Upload your video as an MP4 file
If you know the person or the restaurant you're writing about, and you have their contact information, please share these details in your email. We can share your letter with them!
Tune in on Dec. 19th at 6-7pm to hear your "love letter" being shared, learn more about Dishing Up Toronto , and dive into a discussion about the current food scene in Toronto.
Zoom link will be sent to registrants a couple days before the event.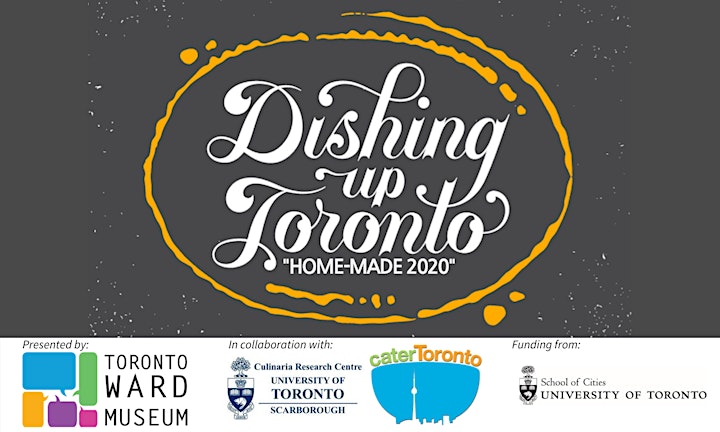 About Dishing Up Toronto:
Dishing up Toronto (DUT) is a community-led program of the Toronto Ward Museum (TWM) . Through a participatory and multi-sector approach, the project brings together multiple stakeholders interested in using food as a vehicle to explore questions of identity, equity and belonging as it relates to Toronto's past, present and future.
Programming partners Culinaria, caterToronto and TWM believe it is important to deliver programming to understand, record and communicate the importance of the food system in the context of Covid-19 and have planned a 2 part Covid friendly event.
caterToronto:
caterToronto is a neighbourhoods-based catering network with the mission to cultivate better social and economic food system connections by integrating affordable and accessible kitchen space, foodservice industry technical assistance, as well as feasible and feast-able market opportunities!
We work with racialized women and partners in low-income neighbourhoods to create diverse, dignified, and delicious eats!
Culinaria Research Centre
The Culinaria Research Centre is a multidisciplinary initiative that blends research excellence with community engagement and student research experience. Our projects provide new insights into some of the major questions circulating in the field of Food Studies today, including the place of food in cultural identity and expression; the relationship between food, diaspora, and inter-ethnic/inter-cultural contact in Canada and beyond; commodity production and labour, from slavery to the age of empire to the present-day; and the links between food systems, health, gender, and family.
Toronto Ward Museum:
The Toronto Ward Museum is a community-engaged museum that facilitates the preservation and sharing of personal stories of migrants in Toronto's history. We utilize collaborative processes to identify community needs and opportunities, then use those insights to create programming that promotes empathy and curiosity between storytellers, community members and the larger public. The museum also creates forums for dialogue from arts and/or history-based programming that is relevant to migration, citizenship and pluralism within an urban context. Finally, we act as a catalyst in community initiatives and forge partnerships between individuals, communities, and organizations toward our collective empowerment.