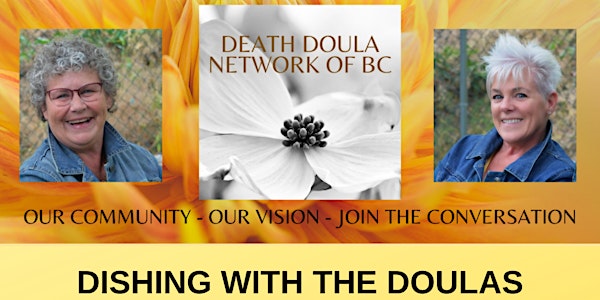 DISHING WITH THE DOULAS - A Death Doula Network of BC Event
DISHING WITH THE DOULAS - a DDNBC Event
About this event
DISHING WITH THE DOULAS
Join us as we create an intimate and safe space to gather, connect, and share.
Each month we gather round the Death Doula Network of BC table to create connection, build relationships, and chat - about anything and everything.
This is a valuable gathering for new and emerging doulas to gather with DDNBC members and others who have experience within the deathcaring industry. An excellent container where we can learn, share and grow together.
This is your opportunity to personally connect with like-minded people, interested in expanding themselves and their understanding of death, dying, and life.
Got questions? Ask us ... ask us anything...
This event offers you the chance to mix and mingle - Yes, even online.
THIS EVENT REQUIRES BOTH AUDIO AND VIDEO CONNECTION TO PARTICIPATE. THIS HELPS US TO CREATE A SAFE AND ENGAGING EXPERIENCE FOR EVERYONE.
Your co-hosts & co-founders of The Death Doula Network of BC:
Jo-Anne Haun, End of Life Alternatives
Karen Hendrickson, Take the Journey
REGISTRATION IS REQUIRED