Dismantling Anti-Black Racism Book Club: Policing Black Lives
This book club is for educators who are ready to confront the reality of Canada's history of mistreatment of Black folx across many sectors.
About this event
This book club is about discussion, but it is also about taking action. Participants will be given just under a month to read the book in its entirety (or key chapters suggested by the organizer) and then will come together to share ideas, questions, and action plans to dismantle anti-Black racism within their spheres of influence. The OSSTF D19 TBU Dismantling Anti-Black Racism Training Officer will provide provocations/prompts that participants can engage with, but this is also a space for organic, authentic discussions. While the goal is to read the entire book, people who wish to simply learn from the discussion are welcome, too. This space is decolonized, so those ready to effect change will be fully embraced whether they have completed the reading or not.
Please note that the first 30 OSSTF D19 TBU members to register for this event will receive a copy of the book, but will have to pick it up from an outdoor location in either Brampton (Fletcher's Meadow S.S. parking lot) or Mississauga (D19's parking lot).
Stay tuned for an announcement about the last book title that was selected by OSSTF D19 TBU members (i.e., Black Lives Matter at School).
Thank you,
judy
DABRTOinD19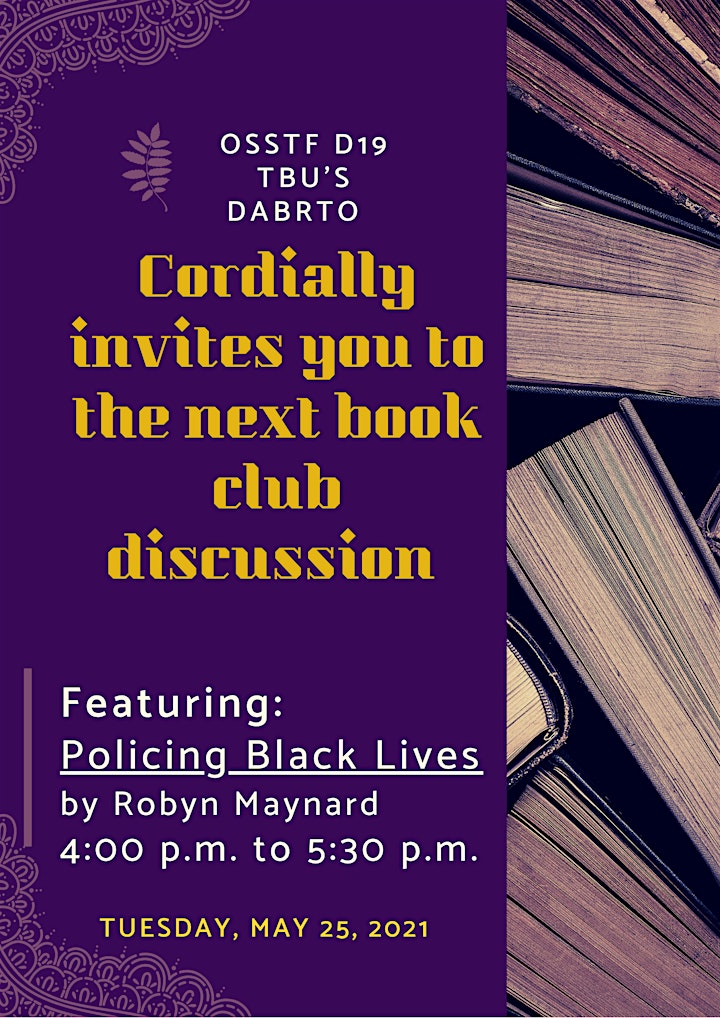 Organizer of Dismantling Anti-Black Racism Book Club: Policing Black Lives