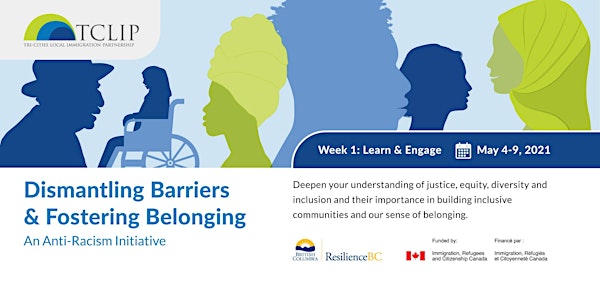 Dismantling Barriers & Fostering Belonging: An Anti-Racism Initiative Week1
Join us for three weeks of engaging activities around justice, equity, diversity & inclusion in our communities.
About this event
Week 1: May 4 – 9, 2021: Learn & Engage
Deepen your understanding of justice, equity, diversity and inclusion and their importance in building inclusive communities and our sense of belonging.
KAIROS Virtual Blanket Exercise | May 4 | 1 – 4pm
Limited seats available.
The exercise builds awareness and understanding of our shared history as Indigenous and non-Indigenous peoples in Canada by having participants literally walk through situations that include pre-contact, treaty-making, colonization and resistance. *Please note: participants must be able to join this activity using a laptop, tablet or desktop. The Zoom phone app is not compatible with this activity. This activity has limited capacity. Register early to avoid disappointment.
If event is full, you may register for the 2nd session on May 21st.
If you would like to be waitlisted for May 4th, please email tricitieslip@success.bc.ca
Keynote by Celina Caesar-Chavannes: The Importance of Equity, Diversity & Inclusion in our Communities | May 4 | 6:30 - 8:00 pm
As an equity & inclusion advocate, Celina will share about the importance of equity and inclusion in our communities by using examples and lessons from her lived experience as a Black entrepreneur and former Member of Parliament. Her recently released book, Can You Hear Me Now? describes poignant lessons in leadership, empathy and empowerment.
Disability Awareness | May 5 | 1-3pm
This workshop will provide participants with tools to understand what disability is, the types of disability, the current language of disability, what ableism is, how you can actively work to fight against it, and tips for disabled people and allies alike to better ensure equity in all that you do.
If event is fully booked and you would like to be waitlisted , please email tricitieslip@success.bc.ca
Diversity in Books: Can You Hear Me Now? | May 5 | 6:30 – 8:00pm
In partnership with Coquitlam Public Library
Join our monthly book club to discuss Celina Caesar-Chavannes' book Can You Hear Me Now? Share some of your reflections from the book or her keynote speech the night before.
Fundamentals of Anti-Oppression | May 6 | 10 am - 12 pm
Presented by Bakau Consulting
Diving deeper than your typical diversity and inclusion workshop, participants are given the opportunity to explore systemic oppression, social justice, privilege, identity and allyship through a variety of engaging activities. Through self-reflection, community- based inquiry, lessons from history and collaborative problem solving, participants gain the knowledge and skills to view the world through an anti- oppressive lens.
Principles of Allyship | May 6 | 5:30 -7:30 pm
Presented by Priti Shah and Christine Spinder
This workshop is an introduction to what is allyship, why is allyship important in ant-racism work. Participants will learn the principles of allyship and how we can share power. This is geared for both community members (public) and service providers (front-line to senior management).
Intro to Racial Justice | May 7 | 1:30 – 3:30 pm
Presented by Bakau Consulting
An immersive and in-depth workshop that exposes our complicity in racist power structures that exist all around us. This workshop is both personal and political: an exploration into bias, systemic oppression, language, cultural appropriation and intersectionality. Participants gain a deeper understanding of the manifestations of racism from systems of power to workplace microaggressions and most importantly gain the skills to speak up and combat racism in their communities.
Dismantling Barriers & Fostering Belonging: An Anti-Racism Initiative is part of the Tri-Cities Together, TCLIP and Resilience BC program
ASL Interpretation & Live Transcription is available for this event.
If you prefer to register by phone, you may contact TCLIP at 604-468-6001 from 9am-5pm and leave a message.