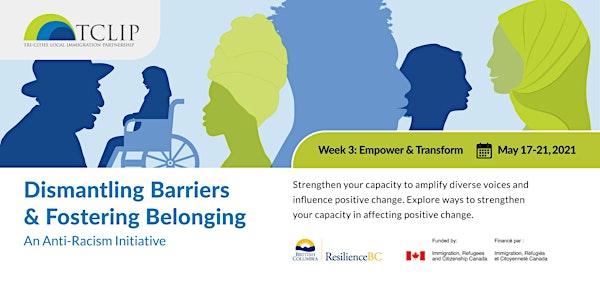 Dismantling Barriers & Fostering Belonging: An Anti-Racism Initiative Week3
Join us for three weeks of engaging activities around justice, equity, diversity & inclusion in our communities.
About this event
Week 3: May 17 – 21, 2021: Empower & Transform
Strengthen your capacity to amplify diverse voices and influence positive change
Disrupting Unconscious Bias | May 17 | 11am – 12:30 pm
Presented by Bakau Consulting
This workshop provides educational information on the science behind cognitive bias and how it informs the decisions we make every day. While biases are a natural part of our human brains, this workshop allows attendees to think critically about how biases may lead us to make unfair decisions, lack diversity in hiring or exclude people. Participants leave with a renewed sense of urgency and knowledge for recognizing bias in everyday conversation and decision-making which in turn transforms workplaces for the better.
Mindfulness Hour: Yoga with Intention | May 17 | 6:30-7:30 pm
Join instructor Prem Kaur in mindfulness yoga: yoga with intention. Tap into your inner-power with the utmost of care, learning more about your inner-self throughout the process. By practicing yoga this way, open your awareness about who you are and what your purpose is in life in the present moment of time.
What is Systemic Racism? | May 18 | 2:00- 3:00pm
Presented by BC Office of the Human Rights Commissioner
This workshop will provide information about BC Office of Human Rights Commissioner and human rights, information about discrimination with an overview of the BC Human Rights Code, overview of BCOHRC's work related to systemic racism (including the Am I Racist campaign and Disaggregated Data report) and how that work links to what people can do to address systemic racism at the individual and systemic level.
Food Diversity Dialogue: Conversation with Local Chefs | May 18 | 3:30 - 5:00 pm
Join us in this dialogue with some local chefs around the preparation of traditional foods, how their food connects themselves and their clients to their culture and some of the challenges they face around cultural appreciation and appropriation.
Inclusive Leadership | May 19 | 11 am - 12:30 pm
Presented by Bakau Consulting
Tailored to leaders, managers and decision-makers, this workshop dives deep into conversations about the ethical use of power. We talk about bias and de-biasing, listening behind the lines, and having courageous conversations. Essential to this part of the workshop is an openness to learn. Participants will learn how to ask practical, compassionate questions and develop better active listening skills and improved means of supporting others.
Moving from Allyship to Collaboration | May 20 | 10 am - 12 pm
Presented by Priti Shah and Christine Spinder
This workshop will cover how allyship can move towards collaboration and structural change and how organizations can map intersections for action. Geared mostly for organizational staff (front line to senior management).
Connections: A Virtual Closing Celebration | May 20 | 4- 5 pm
Featuring Star Child Drum Group, Chris Tse, Fereshteh Zakery , Isha Abubakar
Join us for an hour of music, dance and poetry to celebrate our initiative.
KAIROS Virtual Blanket Exercise | May 21 | 10am – 1pm
The exercise builds awareness and understanding of our shared history as Indigenous and non-Indigenous peoples in Canada by having participants literally walk through situations that include pre-contact, treaty-making, colonization and resistance. *Please note: participants must be able to join this activity using a laptop, tablet or desktop. The Zoom phone app is not compatible with this activity.
This activity has limited capacity. Register early to avoid disappointment.
Dismantling Barriers & Fostering Belonging: An Anti-Racism Initiative is part of the Tri-Cities Together, TCLIP and Resilience BC program
ASL Interpretation & Live Transcription is available for this event.
If you prefer to register by phone, you may contact TCLIP at 604-468-6001 from 9am-5pm and leave a message.