Description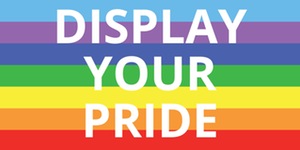 Join in the conversation and the celebrations with the entire U of T community on Thursday June 22nd, as we host our annual Display Your Pride across all three campuses! We're inviting you to show your creative flair and fabulous colours by decorating your office or student space in support of Pride. It's a great way to build awareness and create safer communities for LGBTQ communities across all three campuses.
Be sure to tweet your photos with the #DisplayYourPride #UofT hashtags and follow online. Ways to get involved can be anything from door decorating to dressing up, to creating a piece of artwork, to putting up colourful balloons or painting your face – anything goes!
While Displaying Your Pride, the UTSC Positive Space Committee will also be circulating from 1-4 PM on Thursday, June 22nd, 2017 with FREE ice cream treats!! Look for the cart coming your way!!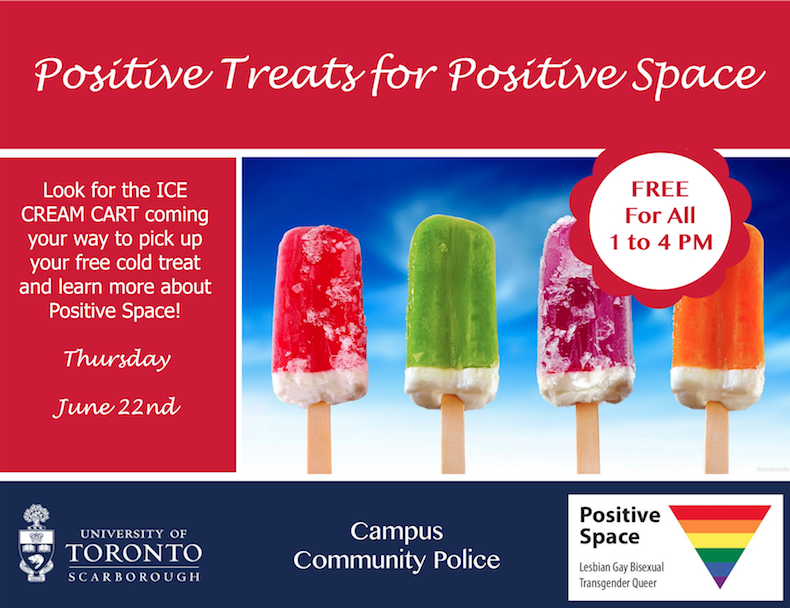 By registering your group or team, you can be assured that we will be coming by on Thursday between 1 and 4 to get a photo of you (and provide you with your free ice cream)!!
If you have any questions, please contact us at Positive@utsc.utoronto.ca.
Organizer of Display Your Pride 2017 & Positive Treats for Positive Space


U of T's Positive Space Committee was born in 1995 when a group of faculty, students, and staff formed an ad hoc group to discuss an initiative to increase visibility and talk about sexual diversity. The committee was created through informal networking throughout the campus. Meetings were held to discuss the issues and generate ideas. The idea of stickers for application to an office door or window, declaring the space to be lesbian- and gay-positive was suggested. A flyer was then produced, explaining the campaign and providing a list of relevant resources to accompany the sticker. The committee proceeded to design the stickers and flyers for broad distribution. Letters were sent out by the committee, requesting funds and support from various sectors of the University of Toronto community in order to be able to carry out the project and print the stickers. The stickers and flyers were distributed to numerous departments and offices throughout the St. George university campus and thus the campaign was launched, accompanied by press releases, in 1996. During the launch of the campaign, there was considerable publicity that raised awareness and got campus community members talking. In 1997 the sticker and flyer were redrafted by the ad hoc committee. The Positive Space committees have expanded to the three campuses - Scarborough, Mississauga and St. George, and there are a variety of materials accessible to community members.