Description
Can't make it for both days?! No worries! Buy a pass under one name, and simply share it with another person attending, on the opposite day (only 1 person per pass).
---------------------------
This unconventional conference will get educators, industry leaders and students thinking, talking and exploring the potential of technology and education. This November, join us for two days of provocative speakers, an unconference, and ideas that will accelerate the future of STEM education in Canada.
When? February 1 & 2, 2018 from 8:30am to 4:00pm
Where is it happening? RBC Convention Centre, Winnipeg, York Ballroom (new building, main floor)

For more information, visit www.educationdisrupted.ca

Presented by: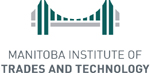 Date and Time
Location
RBC Convention Centre
375 York Avenue
York Ballroom (new building, main floor)
Winnipeg, MB R3C 3J3
Canada