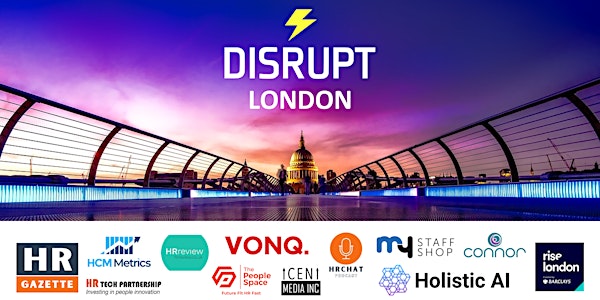 DisruptHR London 17.0
Looking to connect with peers and learn best practices to improve lives at work? Join us for DisruptHR London at Rise!
When and where
Date and time
Tue, May 9, 2023 5:00 PM - 9:00 PM BST
Location
Rise London 41 Luke St London EC2A 4LH United Kingdom
About this event
DisruptHR London returns on May 9th at Rise London. Join us to network and hear from 14 stellar HR, Talent and Tech experts.
DisruptHR London 17.0. is an information exchange designed to energise, inform and empower executives, business leaders and people in HR.
100 professionals will come together at RISE on May 9th for an evening of inspiring speakers and networking.
Hear what HR leaders and workplace innovators are doing in 2023 to improve the workplace
Discover innovative approaches of how companies are disrupting current practices and adding value to the London HR community
Network with forward-thinking HR and Tech people - we want to ensure we network and build connections
In addition to talks focused on HR and Talent, this edition will feature several fintech-related sessions
Agenda
5:00 - 6:30 - Registration & Networking
6:30 - 6:40 - Event Introduction – Bill Banham, Editor at HR Gazette and Host of HRchat Podcast, Bill Boorman, Strategic Advisor at VONQ, Steve Foulger, Commercial HR Director at Connor Consultancy, and Siân Harrington, Co-founder and Editorial Director The People Space
6:40 - 6:50 - Talks by event partners including Marcus Grazette, Policy Lead, Holistic AI and Sam Eaton, Founder at MindAbility Consulting.
6:50 - 7:35 - 7 x 5-minute presentations from well-known HR, Talent and Tech experts including:
Steve Foulger, Commercial HR Director at Connor Consultancy
Emre Kazim, Co-Founder at Holistic AI
Barry Flack, Workplace Consultant at BF Consultancy Ltd
7:35 - 7:50 - Networking Break
7:50 - 7:55 – Welcome back with Bill Banham
7:55 - 8:40 – 7 more disruptive 5-minute presentations including:
Jamie Keeling, Sales Director at My Staff Shop
Andi Britt, Vice President, IBM
Dr Sylvana Storey, Managing Director at Global Organizational Integrators Ltd
8:40 - 9:00 - Final Networking and wrap-up
Partners and Sponsors Include:
Silver Sponsor: My Staff Shop
My Staff Shop is one of the UK's largest employee benefit providers. Based in the West Midlands, My Staff Shop operates nationwide, providing employees with exclusive deals and discounts, free financial advice and saving tips to suit every situation. What's not to love? We pride ourselves on our friendly and collaborative way of working, putting the interest of our clients at the heart of everything we do. Learn more: mystaffshop.com
Community Partner: Holistic AI
Holistic AI provides a software solution for AI Risk Management and Auditing. We are the platform provider for those wanting to harness AI ethically & safely - allowing our clients to monitor & evidence AI compliance with changing regulations & standards. Learn more: holisticai.com
Community Partner: HRreview
HRreview is a news and information resource for human resources and related professionals. Updated news items are posted daily and there are regular updates to the features and analysis section, looking in-depth at topical HR issues. HRreview's website is supported by a weekly email newsletter. Learn more: hrreview.co.uk
Community Partner - HCM Metrics
HCM Metrics is part of the HR Analytics Group and the first internationally accredited Assessor and Auditor of the phenomenally important ISO30414:2018 standard in Human Capital Reporting. Through Human Capital Reporting and Human Resource Analytics for Human Resource Management, they help clients to achieve real and measurable improvements to organisational performance through the improved management of all HR functions. Learn more: hcmmetrics.co.uk
Community Partner: The HR TECH Partnership
The HR Tech Partnership is an innovation specialist in the 'People Digital Tech start-up' area. It was set up in London in 2017 and has since been active in supporting corporates through the use of digital HR solutions. They support corporates with their digital innovation journeys around Talent and Workplace Productivity by helping them pilot AI & Digital solutions. Learn more: hrtechpartnership.com
More About DisruptHR London
Rebooted in 2022, DisruptHR London is a community of innovative HR pros, TA pros, and leaders.
Are you tired of the same old approach to Human Resources? Are you ready to start talking about talent in a whole new way? DisruptHR is for you! This is unlike any other HR event in London.
DisruptHR is built on the belief that how we've approached people and talent in the past won't be the best way to approach them in the future. DisruptHR is founded on the idea that ALL business leaders (and that includes you, HR!) need to be ready to take some risks, to stir the pot…in short, to DISRUPT.
* Registering for this event does not guarantee entry. Capacity is limited and this event is specifically designed for HR, Talent pros and leaders. If you do not fit the criteria, your application to attend may be rejected.
Please note: While we all hope we are through the worst of the pandemic, admission to this event will be subject to any Covid-related legal requirements in place on May 9th, 2023. This may include wearing a face mask or a requirement to show proof of vaccination.
About the organizer
DisruptHR London is Produced by:
The HR Gazette
The HR Gazette is a Toronto-based online business magazine offering fresh perspectives on topics including HR Technology, Talent, Performance, Learning, Strategy and Leadership. The publication publishes podcasts, interviews, and reviews from the brightest minds in and around HR. Contact editor@hr-gazette.com to learn more. The HR Gazette is the property of Iceni Media Inc.
HRU Technical Resources
HRU Technical Resources was founded in 1980 and is headquartered in Lansing, Michigan. HRU provides recruiting and staffing solutions to employers, employees, and job seekers. We're known for providing high quality services at competitive rates.
DisruptHR LLC
DisruptHR was founded in 2013 in Cincinnati, Ohio, and is built on the belief that how we've approached people and talent in the past won't be the best way to approach them in the future - and also with the idea that ALL business leaders (not just HR) need to take some risks, to stir the pot… in short, to DISRUPT in order to compete.