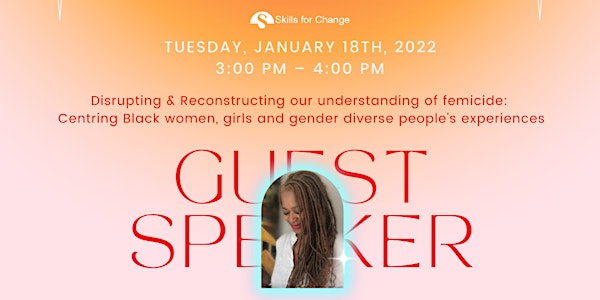 Disrupting & Reconstructing our understanding of femicide
Women & Girls Circle, Skills for Change; Guest Speaker Workshop Series
About this event
Disrupting & Reconstructing our understanding of femicide: Centring Black women, girls, and gender diverse people's experiences
The killings of women, girls, and gender diverse people, BECAUSE of their gender is a global epidemic but is not given the attention it deserves. When systems or public and media attention is paid to it, the focus, outrage, and calls for action are most often on femicides where the victims are White. Systemic anti-Black racism and misogyny lead to Black women, girls, and gender diverse (B-WGGD) victims of femicide being erased from the conversations and policies aimed at addressing and preventing gender-based violence. It is time to shine a light on Black Femicides in Canada, by centering B-WGGD people, as we call for community action and national accountability that truly demonstrates a societal commitment to all citizens.
In this workshop, Skills for Change is happy to have our guest speaker, Nneka Macgregor who is the co-founder and Executive Director at WoenatthecentrE.
Nneka MacGregor, LL.B.
Nneka MacGregor is the co-founder and Executive Director of the Women's Centre for Social Justice, better known as WomenatthecentrE, a unique non-profit organization created by and for women and trans survivors of gender-based violence globally. Nneka is an advocate who works with governments, organizations, and individuals to transform lives and build violence-free communities. She sits on several Advisory Boards and Committees, including the federal government's Advisory Council on the Federal Strategy Against Gender-Based Violence, the Ontario Domestic Violence Death Review Committee, and is an Expert Advisory Panel Member of the Canadian Femicide Observatory for Justice and Accountability.An international speaker and trainer, her research focus is on sexual violence, and on the intersection of strangulation, Traumatic Brain Injury, and Inter-Personal Violence. She was a recipient of the 2019 PINK Concussions Awards and is also the recipient of the YWCA Women of Distinction 2020 award for Social Justice.An entrepreneur with over three decades of business experience, Nneka is the founder and Managing Partner at Nneka & Co, a consulting firm that focuses on Stakeholder-Centric EDI © - a unique and comprehensive framework to engage organizations in equity, diversity & inclusion work. Her expertise is on nurturing women's leadership at the intersection of gender, race and ability.
Women's Centre for Social Justice, o/a WomenatthecentrE
Women's Centre for Social Justice, better known as WomenatthecentrE, was established in 2008, to facilitate supportive action, advocacy and research, and education in the field of gender-based violence (GBV). WomenatthecentrE is a unique non-profit organization that works to eradicate violence against women, women-identified, gender queer, 2-spirit, and trans-identified people, through personal, political, and social advocacy. WomenatthecentrE is the first pan-Canadian non-profit organization that was created by and for survivors of GBV. Through our Personal Advocacy programs, our members participate in skills-building training and other workshops that help them to develop their voice, connect with other women survivors of gendered violence, engage in peer support, and acquire practical skills to help navigate the various systems including family courts and child welfare. Through our Political Advocacy, our members provide expert insight directly to governments, service agencies, and other organizations by engaging in research initiatives, focus groups, and participating in steering committees, in order to ensure that the voices of survivors are informing policies and programs so that these agencies can respond better to the needs of women experiencing violence. Through our Social Advocacy, our members and staff work on initiatives to raise public awareness, influence public opinion and change public perceptions of woman abuse by developing community outreach initiatives and engaging with the media, schools, and the private sector. We bring valuable insight from women who have experienced gendered violence as a way to inform society and dispel the myths. WomenatthecentrE's mission is to ensure that the voices of those with the lived experience are central in the development and implementation of policies and programs aimed at eradicating GBV while promoting gender equity and advancing gender equality.