Distinguished Speakers On Campus Presentation by: John Cherry

Monday, 28 October 2013 from 7:30 PM to 9:30 PM (MDT)
Event Details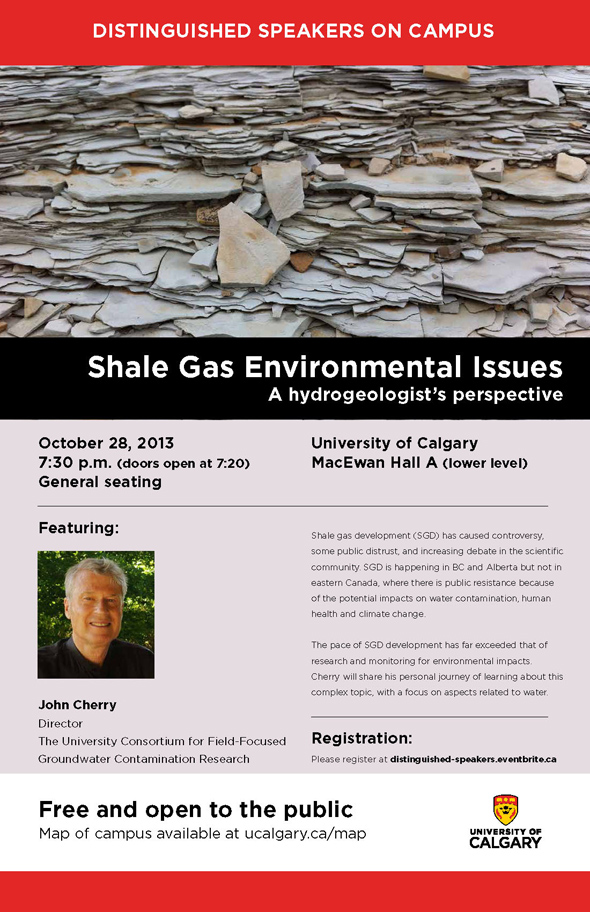 ABSTRACT
Shale gas development (SGD) has caused much controversy and, in some areas, public distrust and increasing debate in the scientific community. SGD is happening in BC and Alberta but is not in eastern Canada where there is public resistance and actual or "in effect" moratoria awaiting scientific clarification of impacts. The potential impacts concern water contamination, human health and climate change. There are many relevant questions for which the science is weak or nearly non-existent because of lack of research and monitoring.   The pace of shale gas development has far exceeded that of research and monitoring for environmental impacts. I knew nothing about (SGD) before I became chair of the shale gas panel appointed by the Canadian Council of Academies (CCA) in May, 2012. This talk concerns my personal journey of learning about this very complex topic with focus on water aspects.  SGD is an amazing technological achievement that offers potential of much societal benefit. However, at this point in time it is not clear whether or not will turn out to be a positive or negative contribution to global well being. The outcome may be most dependent on how well government handles it's responsibilities. The views presented on this talk are my own and not those of the CCA panel. The CCA report is expected to be released in early 2014.
About John Cherry
John Cherry holds geological engineering degrees from the University of Saskatchewan and University of California Berkley, and a Ph.D. in hydrogeology from the University of Illinois. He was a faculty member at the University of Manitoba for four years before joining the faculty of the University of Waterloo in 1971, where his research focused on field studies of the migration and fate of contaminants in groundwater and groundwater remediation. He retired from the University of Waterloo in 2006 and was granted the title Distinguished Professor Emeritus in 2007.
Dr. Cherry co-authored the textbook "Groundwater" with R.A. Freeze (1979) and co-edited and co-authored several chapters in the book "Dense Chlorinated Solvents and Other DNAPLs in Groundwater" (1996). In addition to conducting research concerning subsurface contaminant behaviours, he has participated in the development of several technologies for groundwater monitoring and remediation and co-holds numerous patents.
Dr. Cherry is a Fellow of the Royal Society of Canada and has received awards for groundwater contamination research from scientific and engineering societies in Canada, the United States and the United Kingdom. He is a Foreign Associate of the US National Academy of Engineering. He held the Research Chair in Contaminant Hydrogeology at the University of Waterloo (1996-2006) and is currently the Director of the University Consortium for Field-Focused Groundwater Contamination Research, established in 1998, and the Chair of the Council of Canadian Academies Panel on Environmental Impacts of Shale Gas Extraction. He is also an adjunct professor in the School of Engineering at the University of Guelph.
When & Where

University of Calgary, MacEwan Hall A (Lower Level) MacEwan Hall
2500 University Drive N.W.
Calgary, AB T2N 4V8
Canada

Monday, 28 October 2013 from 7:30 PM to 9:30 PM (MDT)
Add to my calendar