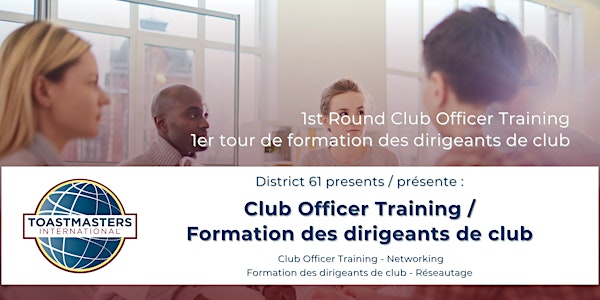 District 61 Club Officer Training / De formation des dirigeants de club
1st Round Club Officer Training - Networking / 1er tour de formation des dirigeants de club - Résaautage
About this event
Receive your 1st round Club Officer Training Today!
A club officer has a very important role in Toastmasters International. The success of a club and its members depends on how well you and your fellow club officers execute your responsibilities. By providing leadership and support, you foster a positive environment that's conducive to members' personal and professional growth, allowing them to achieve their Toastmasters education program goals.
Club officer training is an opportunity for Toastmasters to come together to network, share ideas, and learn about the importance their club officer role plays, 'We rise by helping others'. It's where elected club officers receive training on how to best serve their clubs, and expand their skill sets as a communicator and leader. The more officers trained, the more successful your club will be in meeting the needs of its members.
How does it benefit you and your club?
Learn the fundamentals of your role to ensure you can assist your club members to the fullest
Hear from experienced Toastmasters how to better serve your club.
Discuss issues, concerns, share best practices, and ask questions with fellow Club Officers
Network and have fun with fellow toastmasters.
All our members are encouraged to attend!*
All our members are encouraged to attend - even if no officer role is held.
If you hold no officer position – welcome! Attending a club officer training session is a great way learn more about a role to assist your club in the future!
If you hold one officer position** (in one or more clubs, but the same position), you are only required to attend 1 training session, but you are welcome to attend as many sessions as you like.
If you hold two or more officer positions** (in one or more clubs), you can achieve both credits by attending any of the trainings offered (2022-07-29, 2022-08-19 or 2022-08-29)!
*Your club number will be required for registration. Visit this site to confirm your clubs' number.
**Note that only officers of record may earn the club's Distinguished Club Program (DCP) credit for their role.
Agenda:
18:30 - Sign in and network with other Toastmasters
19:00 - Club Officer Training
The Zoom link will be provided in the confirmation email.
See you there!
ecevez votre 1e de tour formation de dirigeant de club dès aujourd'hui !
Un dirigeant de club a un rôle très important au sein de Toastmasters International. Le succès d'un club et de ses membres dépend de la façon dont vous et vos collègues dirigeants de club vous acquittez de vos responsabilités. En offrant du leadership et du soutien, vous favorisez un environnement positif qui est propice à la croissance personnelle et professionnelle des membres, leur permettant d'atteindre les objectifs de leur programme éducatif Toastmasters.
La formation des dirigeants de club est une occasion pour les Toastmasters de se réunir pour réseauter, partager des idées et d'apprendre l'importance de leur rôle de dirigeant de club, 'Nous évoluons en aidant les autres'. C'est l'occasion pour les dirigeants élus de club de recevoir une formation sur la manière de mieux servir leurs clubs et d'élargir leurs compétences en tant que communicateurs et leader. Plus les dirigeants seront formés, plus votre club sera en mesure de répondre aux besoins de ses membres.
Quels sont les avantages pour vous et votre club?
Apprenez les principes fondamentaux de votre rôle pour vous assurer que vous pouvez aider les membres de votre club au maximum.
Apprenez de Toastmasters expérimentés comment mieux servir votre club.
Réseauter et s'amuser avec d'autres Toastmasters.
Tous nos membres sont encouragés à participer !*
Tous nos membres sont encouragés à assister - même si aucun rôle d'officier n'est tenu.
Si vous n'occupez pas de poste de dirigeant, soyez le bienvenu ! Assister à une séance de formation des dirigeants de club est un excellent moyen d'en savoir plus sur un rôle pour aider votre club à l'avenir !
Si vous occupez un seul poste de dirigeant** (dans un ou plusieurs clubs, mais le même poste), vous n'êtes tenu de participer qu'à une seule session de formation, mais vous pouvez assister à autant de sessions que vous le souhaitez.
Si vous occupez deux postes de dirigeant** ou plus (dans un ou plusieurs clubs),vous pouvez obtenir les deux crédits en participant à l'une des formations proposées (2022-07-29, 2022-08-19 ou 2022-08-29)!
*Le numéro de votre club sera requis pour l'inscription. Visitez ce site pour confirmer le numéro de votre club.
**Notez que seuls les dirigeants officiels peuvent obtenir le crédit Programme de club remarquable (PCR) du club pour leur rôle.
Ordre du jour :
18:30 - Connexion et réseautage avec vos collègues Toastmasters
19:00 - Formation des dirigeants du club
Le lien Zoom sera fourni dans le courriel de confirmation.
A bientôt !