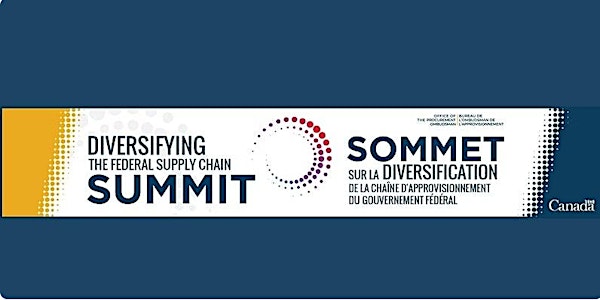 Diversifying the Federal Supply Chain Virtual Summit
Diversifying the Federal Supply Chain Virtual Summit /Sommet sur la diversification de la chaîne d'approvisionnement du gouvernement fédéral
By The Office of the Procurement Ombudsman (OPO)
Date and time
Tue, Apr 4, 2023 8:00 AM - Wed, Apr 5, 2023 1:30 PM PDT
About this event
1 day 5 hours

Mobile eTicket
Le français suit
The "Diversifying the Federal Supply Chain Summit" is being organized by the Office of the Procurement Ombudsman (OPO) to increase the diversity of bidders on federal government contracts.
Now in its fifth year, this virtual Summit is designed to raise awareness of the public and private sector programs that can help small businesses and businesses led by Indigenous Peoples, Black and racialized Canadians, women, Two-Spirit, lesbian, gay, bisexual, transgender, queer, intersex, and additional sexually and gender diverse people (2SLGBTQI+) Canadians, persons with disabilities and other underrepresented groups access federal contracting opportunities.
Spanning 2 days, the Summit will:
Connect you with representatives from the Government of Canada, supplier council programs, and others who can help your businesses
Provide you with practical skills needed to win federal government contracts
April 4-5, 2023.
Free via Zoom (with other options to join). Simultaneous and sign language interpretation will be available.
Keynote: The Right Honourable Adrienne Clarkson, former Governor General of Canada
Participating organizations:
Black Entrepreneurship Knowledge Hub
Black Entrepreneurs and Businesses of Canada Society (BEBC)
Business Development Bank of Canada (BDC)
Canadian Aboriginal and Minority Supplier Council (CAMSC)
Canadian Council for Aboriginal Business (CCAB)
Canada's LGBT+ Chamber of Commerce (CGLCC)
Inclusive Workplace & Supply Council of Canada (IWSCC)
National Aboriginal Capital Corporations Association (NACCA)
Procurement Strategy for Indigenous Business (PSIB)
Public Services and Procurement Canada (PSPC)
Procurement Assistance Canada (PAC)
RISE
Scale-up Initiative from Shared Services Canada
TECHNATION
Women Business Enterprises Canada (WBE)
Women Entrepreneurship Knowledge Hub (WEKH)
Agenda
The full agenda can be accessed on our webpage.
____________________________________________________________________________
Le « Sommet sur la diversification de la chaîne d'approvisionnement fédérale » est organisé par le Bureau de l'ombudsman de l'approvisionnement (BOA) afin d'accroître la diversité des soumissionnaires dans les marchés du gouvernement fédéral.
Maintenant à sa cinquième année, ce Sommet virtuel vise à accroître la sensibilisation aux programmes des secteurs public et privé qui peuvent aider les petites entreprises et les entreprises dirigées par des peuples autochtones, des Canadiens noirs et racialisés, des femmes, des Canadiens aux deux esprits, lesbiennes, gaies, bisexuelles, transgenres, queers et intersexuées et celles qui indiquent leur appartenance à divers groupes sexuels et de genre(2ELGBTQI+) et d'autres groupes sous-représentés à accéder aux possibilités de contrats fédéraux.
D'une durée de 2 journées, le Sommet :
Vous mettra en contact avec des représentants du gouvernement du Canada, des programmes de conseil des fournisseurs et d'autres ressources qui peuvent aider vos entreprises
Vous fournira les compétences pratiques nécessaires pour remporter des contrats du gouvernement fédéral
Le 4-5 avril 2023.
Gratuit via Zoom (avec d'autres options pour s'y joindre). Les interprétations simultanées et en langue des signes seront disponibles.
Discours principal: la très honorable Adrienne Clarkson, ancienne Gouverneure générale du Canada
Organisations participantes:
Association nationale des sociétés autochtones de financement (disponible en anglais seulement)
Black Entrepreneurs and Businesses of Canada Society (en Anglais seulement)
Banque de développement du Canada (BDC)
Carrefour du savoir pour l'entrepreneuriat des communautés noires
Chambre de commerce LGBT+ du Canada
Conseil canadien des fournisseurs autochtones et de minorités visibles (disponible en anglais seulement)
Conseil Canadien pour l'entreprise autochtone (CCEA)
Inclusive Workplace and Supply Council of Canada IWSCC (disponible en anglais seulement)
Initiative « Scale-up » par Services partagés Canada et TECHNATION Canada (disponible en anglais seulement)
Portail de connaissances pour les femmes en entrepreneuriat (PCFE)
RISE (en Anglais seulement)
Services publiques et approvisionnement Canada (SPAC)
Stratégie d'approvisionnement auprès des entreprises autochtones
Soutien en approvisionnement Canada (SAC)
TECHNATION
Women Business Enterprises Canada (WBE)
Ordre du jour
L'ordre du jour complet peut être consulté sur notre site Web.