Sales Have Ended
Ticket sales have ended
Thank you for completing our Diversity, Equity, Inclusion and Anti-Racism Series. We hope you find it helpful in your work to build a more inclusive and anti racist organization and community. Kindly take a few minutes to complete our evaluation form to help us improve our training. Sincerely Evelyn Myrie Principal EMpower Strategy Group
Sales Have Ended
Ticket sales have ended
Thank you for completing our Diversity, Equity, Inclusion and Anti-Racism Series. We hope you find it helpful in your work to build a more inclusive and anti racist organization and community. Kindly take a few minutes to complete our evaluation form to help us improve our training. Sincerely Evelyn Myrie Principal EMpower Strategy Group
A 3-part series of workshops to help you unlearn racist and colonization practices and behaviours.
About this Event
Workshop Descriptions and Learning Objectives
March 04, 2021 @ 1 pm -3 pm
Understanding Diversity, Equity, Inclusion and Intersectionality Fundamentals.
Learning Objectives:
Explore and understand different aspects of diversity and intersectionality 
Learn definitions, and concepts around equity and inclusion;
Reflect on how diversity and intersectionality play an essential role in creating a culture of inclusion.
March 11, 2021 @ 1 pm - 3 pm
Understanding Anti-Black Racism: Narratives in Race and Racism in Canada and its Impacts on the Black community.
Learning Objectives:
Discuss and learn about Canada's history of enslavement, racial segregation and marginalization of African Canadians and its impacts on the Black community;
Explore anti -Black systemic racism and racial discrimination in Canada is a part of our contemporary history;
Learn and reflect on how white privilege and systemic racism contribute to injustice and inequality in Canada.
March 18, 2021 @ 1 pm - 3 pm
Best Practices of Diversity, Inclusion and Anti-Racism in the Workplace:
Learning Objectives:
Discuss the principles and identify tools required to embed equity and inclusion strategy within your work environment; 
Identify steps required to make diversity and inclusion a central value;
Learn how to create a road map to embedding Equity, Diversity and Inclusion in the organizational DNA;
Identify practical tips and tools and create an action plan to work more inclusively;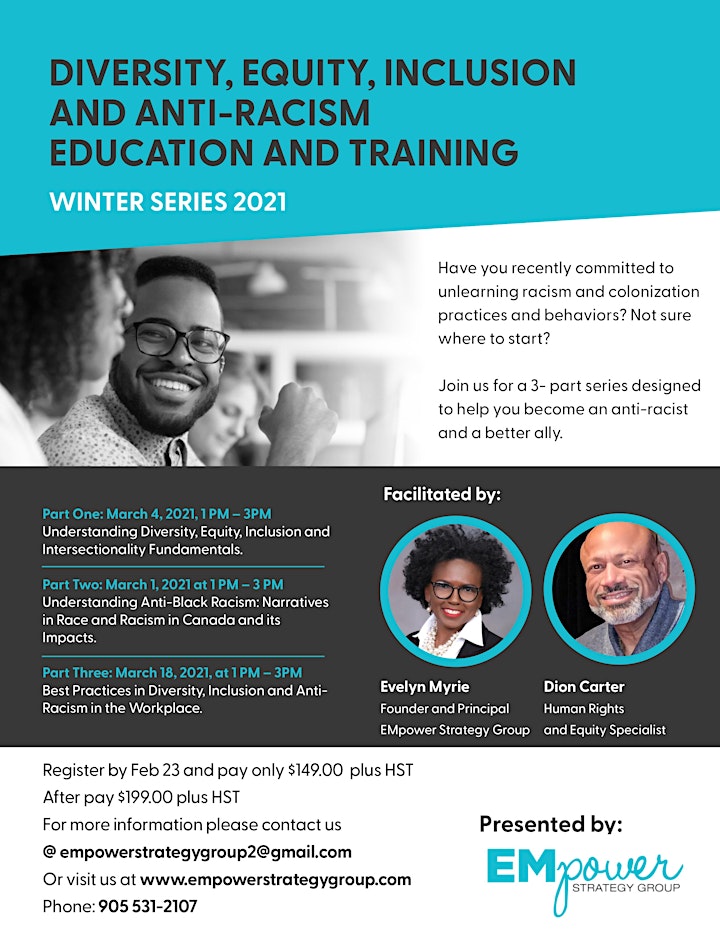 Date and Time
Location
Refund Policy